British Airways Classes
Short & Medium Haul
Economy class (World Traveller, on short-haul flights within Europe, such as domestic flights within the United Kingdom). Flights based in Heathrow are operated by Airbus A320 series and Boeing 767-300ER aircraft. Flights based in Gatwick are operated by Airbus A320 series aircraft. Seat pitch varies between 29-34 in (74-86 cm) depending on location of seat and aircraft type. Heathrow, London Stansted Airport and London City Airport flights feature a buy onboard system where snacks and drinks must be paid for. British Airways economy cabin, popular as World Traveller, is offered on line's mid haul routes and features complimentary drinks, food and individual in-flight entertainment screens.
Business class (Club Europe, short-haul business class on short-haul flights). The class allows access to airports' business lounges. On narrowbody aircraft Club Europe offers seats in 2–2 configuration, with not used middle seat. A table folds up from the middle seat onboard all refurbished aircraft. In-flight entertainment is offered on longer flights operated by Boeing 767-300ER and some A320. Blankets and pillows are available on longer flights. Headphones are also provided. An alternating 1:2 / 2:1 23 seats' configuration is used in the aircraft's front section and full Club World bar and meal service is offered. Individual LCD TV screens are placed to each seat back.
Long Haul
First class (on British Airways Boeing 777-300ERs, Boeing 747-400s, Boeing 787-9s, some Boeing 777-200s, Airbus A380s). There are 14 (8 on 787-9) private cabins on most of the airplanes, each with a 1.98 m (6 ft 6 in) bed, a 38 cm (15-inch) wide entertainment screen, plus in-seat power. British Airways 'Galleries First' dedicated lounges are available at some airports. The 'Concorde Room' lounges situated at New York JFK and Heathrow Terminal 5 airports offer pre-flight dining, waiter service and intimate space.
Business class (Club World, long-haul business class offered on long-haul configured Boeing 747-400, Boeing 767, Boeing 777, Boeing 787, Airbus A318, A380 aircraft). The cabin offers fully flat beds. Club World cabins are configured in a similar design onboard widebody aircraft and feature aisle seats facing forward, middle and window seats facing backwards (British Airways is among the only 3 carriers to offer backwards facing Business class seats, along with American Airlines and United Airlines).
Premium economy (World Traveller Plus, premium economy offered on long-haul aircraft except Airbus A318). The cabin offers extended leg-room, wider seats, additional seat comforts like larger IFE screen (on most aircraft), power sockets and foot rest. Complimentary 'World Traveller' bar is available along with upgraded main meal course.
Economy (World Traveller, long-haul economy class which is offered on international flights to all destinations outside Europe). The Economy class offers complimentary drinks, meals and seat-back entertainment.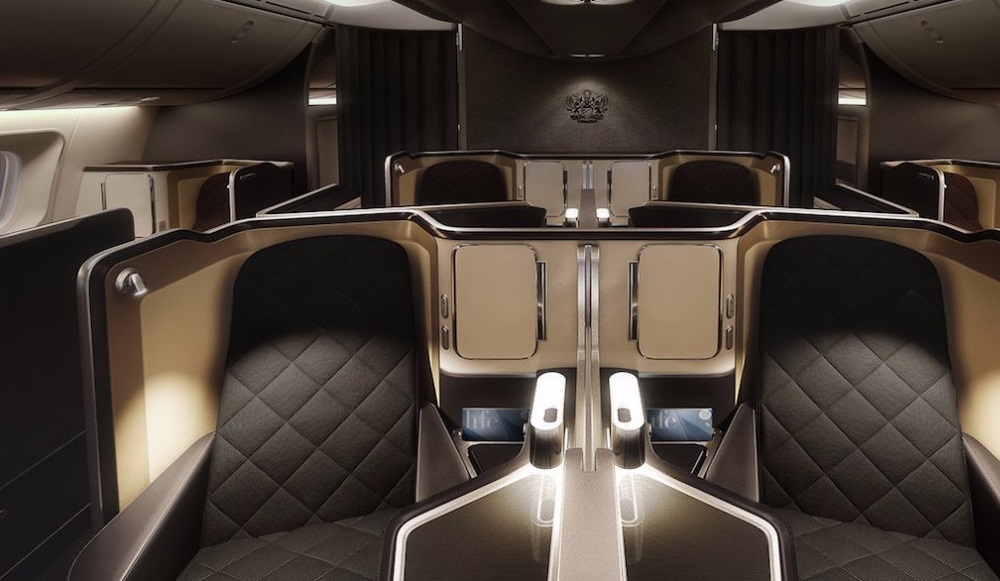 When you sit close to the centre of the airplane, you don't feel the turbulence effects as much. Reserving your seat early, close to the centre of the plane, helps for a more comfortable flight.
Economy: Euro Traveller (£7), World Traveller (£20)
Business: Club Europe (£20), Club World (£55).
Baggage
The free hand baggage allowance (total number of bags, their size and weight) depends on the airline operating the flight (British Airways, OpenSkies/British Airways' premium full-service subsidiary which operates services between Paris Orly and NY, and BA CityFlyer).
British Airways passengers' bags must fit in the baggage gauge at check-in (which includes handles, wheels and pockets) and be large enough to fit duty free or airport purchases. Weight limit apply to each bag and it is not possible to split total weight across many bags. Travellers must be able to lift their bags into the overhead locker by themselves.
To help passengers put their baggage away quickly and safely onboard, and get to their destination on time, the airline attach a yellow tag to travellers' handbag / laptop bags (with maximum measures 16x12x6 in / 40x30x15 cm). This is the cabin bag that BA guarantee guests can take into the cabin. The yellow tags are also available from airline's bag-drop desk or from a British Airways staff member.
Passengers must place their smaller, yellow tag cabin bag under the seat in front. If they are travelling in First, Club World or Club World London City, or in case they sit in an exit row / bulkhead seat at the front, this bag must go into plane's overhead locker. The additional cabin bag (22x18x10 in / 56x45x25 cm) goes into the overhead locker.
The checked baggage allowance varies depending on the cabin passengers are travelling in, the frequent flyer member status as well as other factors. One checked bag can be up to 35.5x29.5x16 in (90x75x43cm), including any handles, pockets and wheels.

Boarding
Check the latest travel alerts before your flight and get flight status info for gates and times. Download British Airways app at britishairways.com to get access to all info you need before, during and after the flight. The app is available for iPad, Apple Watch and mobile.
Learn about checkpoint security screening process and policies. Visit the website of Transportation Security Administration's (TSA) for travel info including accepted forms of I.D., modified screening, clearing checkpoints, and more.
Check in online beginning 24 h before the flight. Print, email or download your boarding pass. In case you lose or forget it, you can print it again at the airport's check-in kiosk.
Except using the airport kiosks, you can also can also check in at the check-in desk of British Airways. All you need is the booking reference or form of identification (credit/debit card, passport, Executive Club card).
When flying internationally and connecting to a different airline, travelers have to check the applicable Customs procedures to determine if checked baggage has to be re-checked upon arrival into the country.
Those airline passengers who are only travelling with hand baggage and have a boarding pass can go straight through security.
Those who have baggage to check in have to go to a Bag Drop desk with their boarding pass, identification and other needed travel documents (visa). Self Service Bag Drop kiosks are also available to use in C and D Zones of Terminal 5 Departures area.
Those travelling from London City or London Heathrow Terminal 3 have to print their baggage tags at an airport check-in kiosk (even in case they have already checked in), attach them to their bags and take them to the Bag Drop desk.
Those travelling on intercontinental flights, including Kiev, Moscow and St Petersburg, from London Heathrow Terminal 3 / Terminal 5 will have to check their passport and visa prior to going through security.
Food & Drinks
Economy Dining (short haul)
Via partnership with Marks & Spencer, British Airways offer an M&S onboard menu in their Euro Traveller cabin to/from London Heathrow & London Gatwick. Passengers may choose from a seasonally inspired menu and buy drinks and food in one easy transaction. The various food options include gluten-free, vegetarian and healthy alternatives. All food choices are under £5
Business Dining (short haul)
On early morning flights (except Manchester and Leeds Bradford), passengers can choose between hot English breakfast or vegetarian alternative with croissants and warm bread. On flights to/from Manchester and Leeds Bradford, British Airways offer fresh fruit, dairy product and bacon roll, served with croissants and warm bread. On mid morning flights, passengers enjoy continental cold meats and cheese. They can also opt for a hot sandwich.
On shorter BA flights for lunch and dinner travellers can choose between a hot sandwich or a fresh salad each served with dessert. On longer flights they receive a starter and a choice between a couple of hot meals, plus dessert and cheese, accompanied by a full bar service and warm bread. Afternoon flights within Europe and the UK feature a choice between Ploughman's salad or sandwiches, both served with a cup of tea or coffee and cake.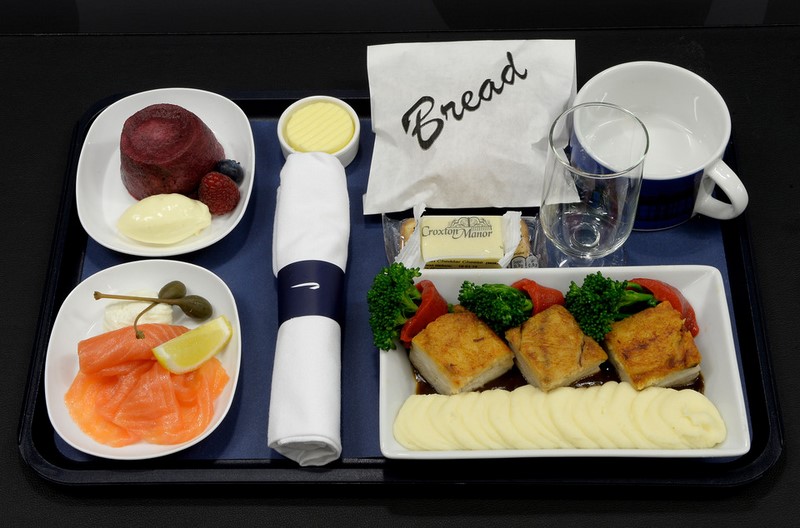 Economy Dining (long haul)
Those who travel in British Airways World Traveller class (long haul economy cabin), are offered Complimentary onboard dining, including complimentary snack, 3-course meal or light meal, depending on the length and time of the flight. BA bar service includes a range of cold and hot drinks.
Premium Economy Dining (long haul)
The World Traveller Plus menu features either a continental, or traditional full English breakfast, accompanied by fruit juices and coffee or tea (on morning flights). No matter what time of the day the flight is, a 3-course or light meal is offered. The main course for lunch or dinner includes a choice of a couple of the meals featured on airline's business class menu. Passengers can also choose a drink from the plane's complimentary bar. The afternoon tea is Twinings with a selection of sandwiches plus scones.
Business Dining (long haul)
In the morning hours Business class guests can enjoy a delicious breakfast. Afternoon flights include a snack or afternoon tea by Twinings accompanied by warm scones and savouries. Restaurant-style dining service includes display trolleys to choose from a choice of starters, cheeses and desserts. In between meals passengers can have a treat or two from the Club Kitchen, choosing from including fresh fruit, sandwiches, salads, Duchy yoghurt and sweets. British favourites also include Cadbury chocolate and Island Bakery shortbread.
In the morning hours First class guests can enjoy a delicious breakfast, including a classic English or continental, with a choice of smoothies, juices, yoghurts, pastries and cereals. A lighter option is also available. Those who prefer to sleep may request an Express breakfast, served closer to landing. Meals include a starter, main course, cheese platter and desserts, accompanied by the finest chocolate and seasonal fresh fruit. Award-winning champagnes and wines are an accompaniment to the meal. The full bar service offers a variety of non-alcoholic drinks, coffee, tea and spirits to choose from. The afternoon tea is Twinings with a selection of sandwiches, cakes,pastries and warm scones.
Elegant Concorde Rooms are situated at New York JFK Terminal 7 and London Heathrow Terminal 5.