Emirates Airlines Classes
First (two types of first class seating is offered: full suite with doors & flat bed 'Skycruiser' without doors). Emirates Airlines full suite option comes complete via closing doors in order to ensure privacy, a coat rack, storage and mini-bar. They also feature ICE system on a 58-cm-wide (23-inch) LCD screen. These seats convert into 2-metre-long (79-inch) fully flat beds. Private suites are offered on all Boeing 777-200LR, 3-class Boeing 777-300ER and 3-class Airbus A380-800 aircraft. 'Skycruiser' is available onboard Boeing 777-300s. It has seats extending to flat beds that use integrated passenger seat control, the ICE system and 48-cm-wide (19-inch) screen. On the Emirates Airlines A380-800, First Class boasts private suites, spa and a couple of shower-equipped lavatories, plus access to the First Class bar area & lounge. Premium class seats are located on the upper deck of A380-800. Emirates First Class cabin for Boeing 777-300ER resembles "a private bedroom on a luxury yacht".
Business (Emirates Airlines Business class is offered on Boeing 777-300s, Boeing 777-300ERs and Boeing 777-200LRs). Amenities include seats with a 60-inch-long (1.5-metre) pitch which recline to 79-inch-long (2-metre), angled lie-flat beds. Passengers also benefit from massage function, winged headrest with 6-way movement, privacy partition, 2 individual reading lights and 1 overhead light per seat, in-seat power supply, RCA socket for laptop connection, USB Ports, more than 600 channels of entertainment available via ICE, shown on a 43-cm-wide (17-inch) TV screen. On Emirates Airlines Airbus A380-800 aircraft, seats recline to form a flat bed and offer personal mini-bars. Business class guests have access to the onboard bar at the rear of the plane.
Economy (offers a 31-32 inch / 79–81-centimetre seat pitch onboard Airbus aircraft and 34 in / 86 cm on Boeing aircraft as well as standard seat width, except onboard Boeing 777). Emirates Airlines has 10 seats per row on Boeing 777 fleet. All seats have adjustable headrests, in-seat laptop power-outlets, laptop recharging facilities and 1500 channel ICE In-Flight-Entertainment. Additional recline is available on Economy class seats onboard A380. The cabin lighting on A380 and newer 777 airplanes is fully provided via LED mood lighting.
Emirates Airlines is one of the world's first airlines to introduce personal entertainment system on its commercial aircraft in 1992. All airline's 3 classes offer a personal IFE (in-flight entertainment) system on Emirates aircraft. Two types of entertainment system are available on Emirates: ICE & ICE Digital Widescreen. ICE boasts more channels than any other IFE system. It was introduced in 2003, and is available on all new aircraft with 600-1200 channels. In July 2007, Emirates Airlines introduced ICE Digital Widescreen, which is an updated ICE version. It offers more than 1200 channels pre-selected entertainment available to all guests. ICE Digital Widescreen is offered on all new Emirates aircraft.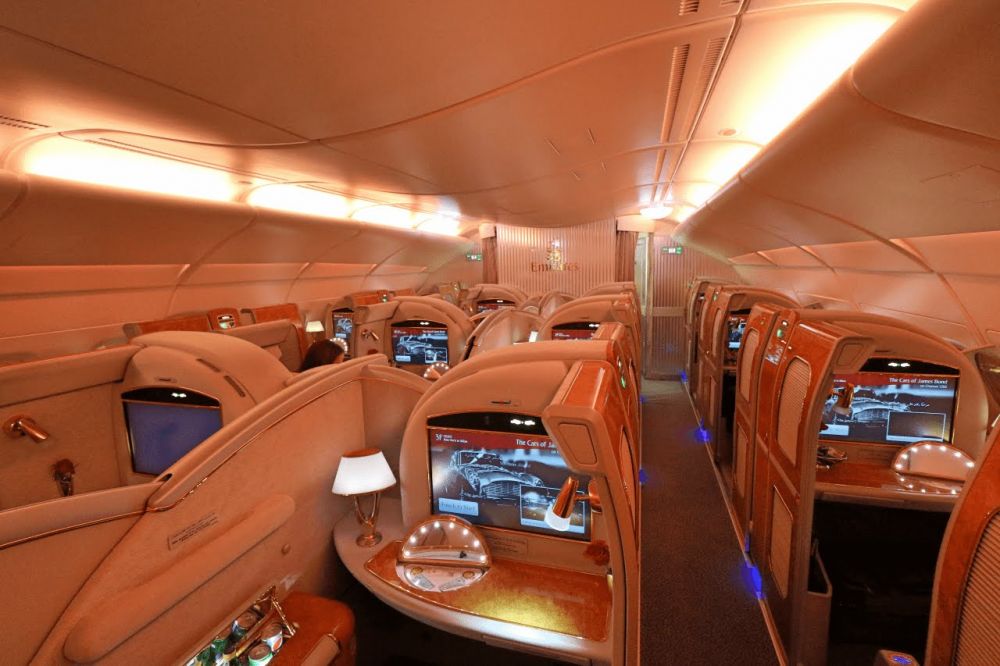 Ba
ggage
Baggage allowances varies depending on the class of travel, Emirates Skywards membership tier, and route. Passengers can use carrier's baggage allowance calculator to know exactly what cabin baggage they may bring onboard.
Carry-on baggage: First and Business Class clients are permitted 2 pieces of carry-on: a briefcase and either one garment bag or one handbag. The briefcase must not exceed 18x14x8 inches (45x35x20 cm); the handbag - 22x15x8 inches (55x38x20 cm); the garment bag has to be no more than 8 inches (20 cm) thick when folded. Each piece must not exceed 7 kg (15 lb) weight. Economy Class passengers are allowed one piece of carry-on baggage which should not exceed 22x15x8 inches (55x38x20 cm) and has to weigh no more than 7 kg (15 lb).
Checked baggage: Passenger's checked baggage allowance on Emirates Airlines flight depends on the fare type. Depending on the ticket class, guests receive complimentary checked baggage allowance, as follows: Economy: 30 kg, Business: 40 kg, First: 50 kg. In case an individual item features total dimensions greater than 300 cm (118 in) length + width + height, it cannot be checked in as baggage and will have to be sent as cargo (freight). For North America, South America and Canada, different baggage allowance applies: Economy: 2 bags up to 23 kg each, Business and First: 2 bags up to 32 kg each.
Boarding
Visa, transit or entry requirements vary from country to country, and can also change with little or no notice. This is why passengers have to refer to the relevant consulate or embassy of all countries on their itinerary as well as their destination country for up-to-date information.
Travellers may manage their booking via upgrading their flight, adding a hotel/car rental, or booking their dietary requirements. Those who fly with Emirates can edit and manage all their travel needs online.
Reserving a seat via the flight seat map means that family or friends can sit together when they're flying in a large group. The seats can be changed at any time up until check-in.
Online check-in leaves time to relax. It opens 48 hours before the flight. Check-in at the airport opens 3 hours before the flight. Mobile check-in can also be used via downloading the boarding pass on the phone to make the trip faster.
Passengers can also log in to Emirates Skywards and manage every aspect of their frequent flyer account online. They just have to add their membership number to the booking and earn Skywards Miles, or use their Miles to upgrade.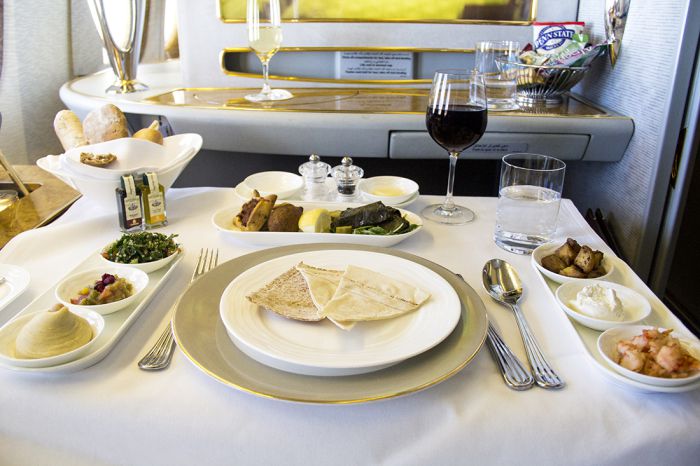 Food & Drinks
Catering on Emirates Airlines flights from Dubai Intl is provided via Emirates Flight Catering operating one of the world's largest airline catering facilities. Emirates provides special meal options, available in all classes, and based on dietary restrictions, age, preference, religious observance. Special meals have to be ordered in advance, at least 24 hours prior to the flight departure time. However, Halal meals don't have to be booked as these are part of the normal meals.
Emirates Airlines First class meals include delicious canapes, cold and hot drinks as well as on-demand dining. The regionally inspired menus are all served on Royal Doulton fine bone china with Robert Welch cutlery. Along with extras like cold and hot snacks in the carrier's Onboard Lounges, passengers can choose from a selection of fine wines and limited editions.
Business Class offers delicious food, complimentary champagne and healthy options. Emirates Airlines offers regionally inspired menus, all served on Royal Doulton fine bone china with Robert Welch cutlery. Passengers can enjoy multiple courses, complimentary vintage wines and champagne, along with other beverages and cocktails.
Passengers can choose from regionally inspired meals with local ingredients, such as Grilled Chicken Breast with Caramelised Plums or Lamb Brochette with Arabic Spices. They can also relax with a range of complimentary drinks in flight, like cocktails and wines. And for a small fee, travellers can toast their flight with champagne. Kids can enjoy Emirates Airlines meals prepared just for them.