Ethiopian Airlines (formerly Ethiopian Air Lines (EAL), often referred to as Ethiopian, is the flag carrier of Ethiopia, wholly owned by the government of the country.
Ethiopian Airlines (ETH) was established on December 21, 1945 and started operations on April 8, 1946 expanding to international flights 5 years later, in 1951. Ethiopian became share company in 1965 and was renamed from EAL (Ethiopian Air Lines) to Ethiopian Airlines. The carrier has been one of the members of International Air Transport Association since 1959, as well as of AFRAA (African Airlines Association) since 1968. Ethiopian Airlines is also a Star Alliance member, joining in December 2011.
The hub and headquarters of Ethiopian are at Bole International Airport (Addis Ababa), from where the carrier serves a network of a total of 125 passenger destinations (twenty of which domestic) and 44 freighter destinations. Ethiopian Airlines has secondary hubs in Malawi and Togo. It flies to more African destinations than any other carrier. Ethiopian Airlines is one of the fastest-growing in the industry and is the biggest on the African continent.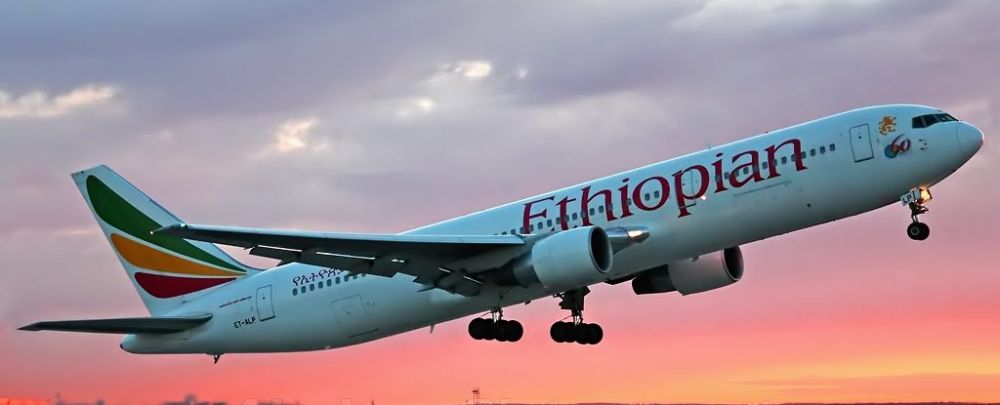 On all Ethiopian Airlines flights, travelers are offered with food and complimentary beverages onboard, in both classes. Carrier's food service consists of hot or cold snacks, hot meals, light refreshments, depending on the flight's length and time of the day. The choice of buying complementary drinks at extra cost is also available. Ethiopian offers assorted menus for guests with special meal requirements.
The Business Class of Ethiopian Airlines is called Cloud Nine. Passengers flying in the class are offered onboard amenities and reading material. Onboard Boeing 777-200LR travelers are provided with sleeper seats, on-demand audio and video services.
Economy Class passengers are provided with a variety of meals, ranging from hot dishes to light snacks, and a number of amenities, depending on the length of flight. On-demand audio and video, with 8.9-inch screens and 80 channels, along with reclining seats are available on Boeing 777-200LR.