Delta Air Lines Classes
Delta One (the premier business class product of Delta Air Lines) is available aboard long haul international flights, and transcontinental service out of New York-JFK to LA and San Francisco. Amenities include: lie-flat seating on all airplanes, plus direct aisle access on all aircraft types except Boeing 757-200; universal power-ports; personal, on demand IFE (In-Flight-Entertainment) system; movable reading light; folding work table; complimentary alcoholic beverages, refreshments, chef curated meals; option to pre-select meals; premium bedding; amenity kit; pre-flight Sky Club access. Delta One Suites, introduced in 2016 on select widebody fleets, also feature a door to the aisle for privacy, improved storage space, bigger IFE screen, updated design.
Delta Premium Select (new Premium Economy cabin added in April 2016). Amenities include: adjustable leg rests; extra legroom; extra seat pitch, width, and recline; new premium service; option to pre-select meals (2018). Delta Premium Select was introduced on Delta's new Airbus A350, followed by Boeing 777.
First Class (offered on main-line domestic flights, with the exception of those with Delta One service, on select short/medium-haul international flights, as well as on Delta Connection aircraft with over 50 seats). First Class seats range between 18.5-20.75 inches (47.0-52.7 cm) wide and feature between 37-40 inches (94-102 cm) of pitch. Amenities include: priority boarding, wider variety of free snacks in comparison with Main Cabin; free drinks and alcohol; full meal service on 900 miles and longer flights; option to pre-select meals (2018). Certain aircraft features power-ports at each seat plus free entertainment Delta Studio products.
Delta Comfort Plus (offered on all aircraft) features 34-36 inches (86.0-91.0 cm) of pitch; on Delta One configured aircraft, 35-36 inches (89.0–91.0 cm) of pitch and 50% more recline over Main Cabin standard seats. Amenities include: priority boarding; complimentary spirits, beer and wine on flight 250 mi or more, plus complimentary premium snacks on flights 900 mi or more; dedicated overhead space. Complimentary premium entertainment is offered via Delta Studio, and free headsets are available on most flights. On transcontinental flights between JFK-LAX and SFO, Delta Comfort Plus passengers also receive Luvo snack wraps. Delta Medallion members easily upgrade from Main Cabin to Comfort Plus for free, while other clients can upgrade with SkyMiles or for a fee.
Main Cabin (Economy Class) is available on all Delta aircraft with seats ranging 17-18 inches (43-46 cm) wide and 30-33 inches (76-84 cm) of pitch. On Boeing 737, 747-400, 777, as well as selected Boeing 757-200, 767-300, McDonnell Douglas MD-90 aircraft, the main cabins feature an articulating seat bottom moving forward and seat back tilting backwards when reclining. Amenities include: complimentary non-alcoholic drinks and snacks on all flights 250 mi (400 km) or longer (alcohol is available for purchase); alcoholic drinks and complimentary meals on long-haul international flights and selected transcontinental domestic flights, like New York-JFK and San Francisco, Seattle, Los Angeles, and San Diego; meals are available for purchase on North American flights 900 mi (1,400 km) or longer.
Basic Economy ( basic version of Main Cabin) offers the same services for a lower price, but with fewer flexibility options. Seats are assigned after check-in and passengers are not able to change/refund their ticket after line's Risk Free Cancellation Period. No paid/complimentary upgrades are offered regardless of frequent-flier status. However, the airline still offers complimentary snacks and non-alcoholic drinks like Starbucks coffee, tea, sodas, juice, water. Wi-Fi is available for purchase on a lot of flights with complimentary access to movies and shows on Delta Studio.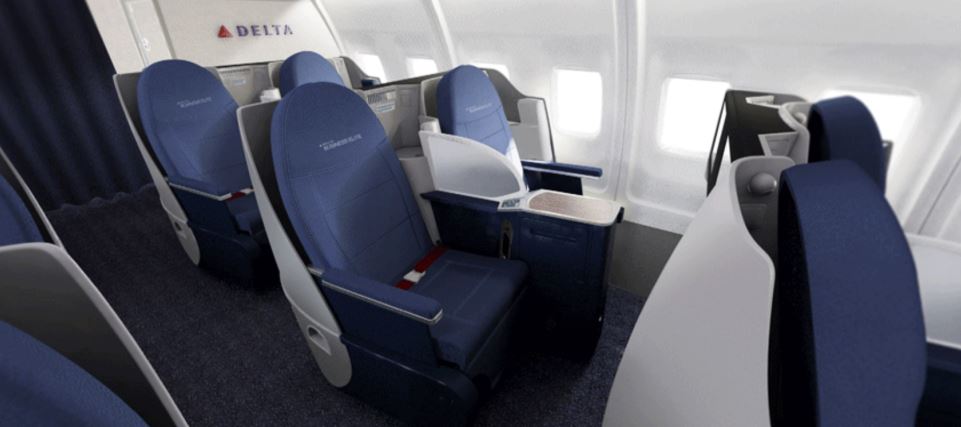 Baggage
Delta Air Lines most common fees for traveling in a Main Cabin, domestic seat are:
FREE carry-on & personal item
US$25 each way for the 1st bag under 50 lbs (23 kg)
US$35 each way for the 2nd bag under 50 lbs (23 kg).
In all cabins travelers are allowed one carry-on bag and one personal item. Some items can only travel in a carry-on bag, and some must be checked. Travelers have to make sure they know where to pack the restricted items and if they can carry them on.
To prevent inflight danger, a lot of common items are restricted by the TSA (Transportation Security Administration) and FAA (Federal Aviation Administration). Those travelling with objects on FAA Pack Safe Hazmat or TSA prohibited items restrictions lists, they will be confiscated.
Carry-on baggage: one personal item and one bag (the personal item has to fit under the seat in front of the traveler. Dimensions shouldn't exceed 18x14x8 inches/45x35x20 cm). Carry-on baggage may not exceed 45 in (114 cm) combined length, width and height, including handles and wheels, or 22x14x9 in/56x36x23 cm, and must fit in the airport's sizer. TSA allows some duty-free liquids through security in a carry-on bag in case they are packaged in security tamper-evident bag.
Checked baggage: Delta Air Lines baggage fees are based on regions. Travelers have to find their country to get better understanding of fees. The airline calculate the size limits of the bag by adding the outside dimensions of each bag, length+ width+height. For all regions, the checked baggage allowance is: 62 in (157 cm); Weight: 50 lbs (23 kgs).
Boarding
Check the latest travel alerts before your flight and get flight status info for gates and times. Download Fly Delta app at delta.com to get access to all info you need before, during and after the flight.
Learn about checkpoint security screening process and policies. Visit the website of Transportation Security Administration's (TSA) for travel info including accepted forms of I.D., modified screening, clearing checkpoints, and more.
Five convenient check-in options are offered, including mobile and in-person check-in. Check in beginning 24 h and up to 30 min before the flight (60 min for international). Travelers who fail to complete check-in time limits will not be able to catch the desired flights, so change fees may apply.
Completing check-in, check baggage and clear security takes time, so Delta Air Lines recommend arriving as early as possible - at least 2 hours prior to departure when flying within the U.S. When traveling outside of the U.S., the airline recommend 3 hours prior to departure.
When arriving in the United States from an international location, travelers have to claim their checked bags at the 1st stop within U.S. and proceed through Immigrations/Customs.
When flying internationally and connecting to a different airline, travelers have to check the applicable Customs procedures to determine if checked baggage has to be re-checked upon arrival into the country.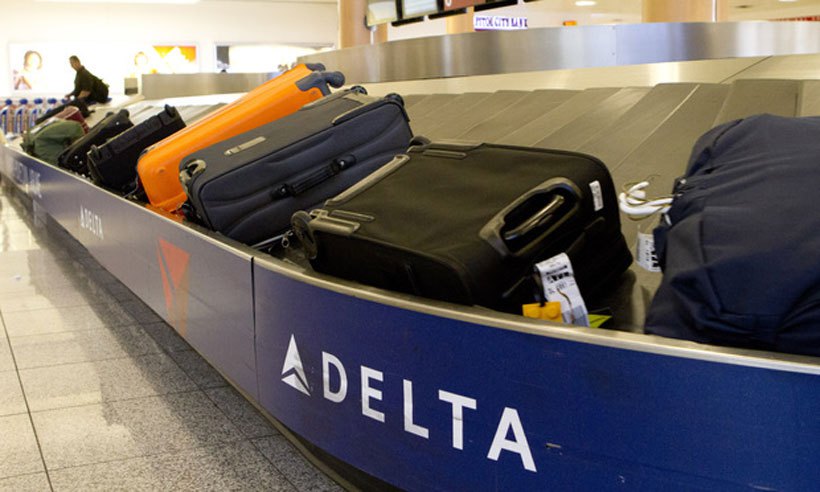 Lounges
The airport lounges of Delta Air Lines are called Sky Clubs. Their membership options consist of single visit passes. Annual memberships can be purchased with either miles or money. International business class passengers receive free access. Membership can be also granted via top level Delta status or through the purchase of American Express credit cards.
Features of the Sky Clubs vary by location, and generally include free drinks (of which alcoholic beverages), reading material and snacks. Wi-Fi is free for all members and guests. In the USA it is mostly provided by AT&T. Other Sky Club member benefits include reciprocal access with other SkyTeam members as well as other partners of Delta.
Wi-Fi
Delta Air Lines has the world's largest fleet of Wi-Fi-equipped airplanes. In August 2008, Delta revealed it would be installing Gogo, Aircell mobile broadband network, which enables clients traveling with Wi-Fi enabled devices to access the Internet for a fee.
Delta Domestic Day Pass is available for US$16 (excluding taxes and fees). It is valid on one or more flights and provides 24 hours of continuous access with unlimited Wi-Fi on Gogo equipped Delta domestic flights.
Delta Domestic Monthly Pass is available for US$49.95 (excluding taxes and fees). It is monthly subscription service to Gogo In-flight Wi-Fi.
Delta Domestic Annual Pass is available for US$599 (excluding taxes and fees). It allows Internet access on all Gogo equipped Delta domestic flights.
Food & Drinks
Delta Air Lines offers free food service to economy class passengers on some longer domestic flights. This includes upgraded snacks, more food-for-purchase options, as well as free in-flight entertainment and access to blankets. Main cabin clients on long-haul international flights also receive complimentary wine, beer, spirits and sleep kits.
DRINKS
Soft drinks, Hot Drinks, Mixers, Juices and Bottled Water: complimentary in all cabins.
Beer: complimentary in Delta One, First Class, Comfort Plus. Available for purchase (US$6) in Main Cabin on domestic / short-haul international flights, and complimentary on international trips with Main Cabin meals.
Wines & Spirits: complimentary in Delta One, First Class, Comfort Plus. Available for purchase (US$6) in Main Cabin on domestic / short-haul international flights, and complimentary on international trips with Main Cabin meals.
Mixed Drinks ("Featured Beverages") complimentary in Delta One, First Class, Comfort Plus. Available for purchase (US$6) in Main Cabin on domestic / short-haul international flights.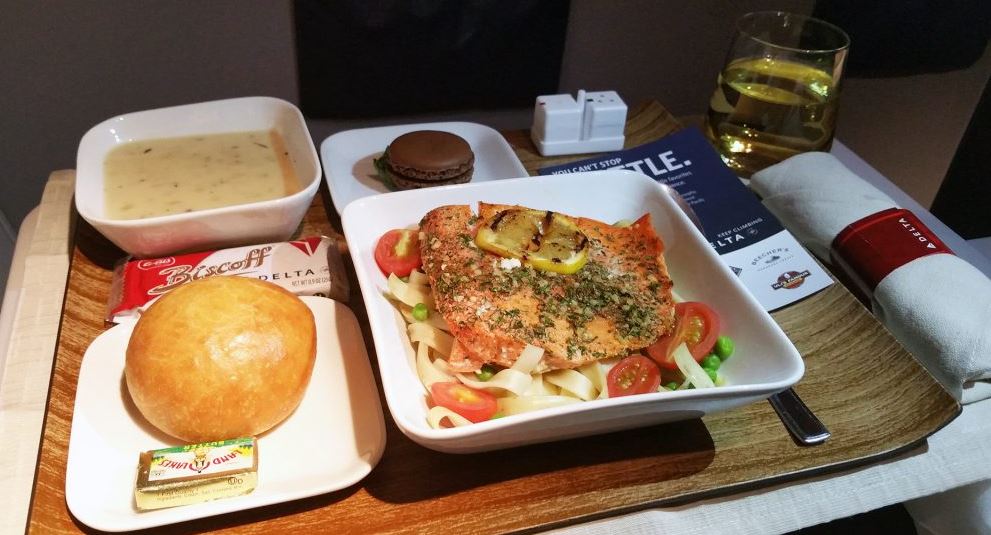 MEALS
Delta One - Intercontinental Flights - complimentary meals vary by destination.
Meals in Domestic First Class / Business Class
0-250 mi: limited snack box is offered, including Biscoff cookies, pretzels and peanuts.
251-899 mi: full snack basket offered.
900-1399 mi: meals are served in case flights depart between 5:00 a.m. - 1:30 p.m. and 4:00 p.m. to 8:00 p.m. This varies slightly by flight. At other times a basket with snacks is passed around.
1400+ mi: full meal service is offered between 5:00 a.m.-8:00 p.m. Breakfast is served in case flights depart up to 9:45 a.m., plus full lunch / dinner service afterwards.
Meals on International Flights - Main Cabin & Comfort Plus
Only certain routes provide complimentary meal service in Economy class. All transpacific and transatlantic flights include complimentary meals in Economy cabin. Most trips to South America also offer meal service, but flights to Canada, Mexico, Central America do not.
Donestic Economy Snacks, Meals & Flight Fuel menus
For passengers in Comfort Plus all drinks are complimentary. On medium and longer flights, complimentary snacks are passed around, with offerings like crackers, chips, chocolate, and other packaged snacks.
0-249 mi: no service is available except water and coffee by request.
250-899 mi: complimentary Biscoff cookies, pretzels and peanuts.
900-1,399 mi: complimentary Biscoff cookies, pretzels and peanuts plus limited premium snacks to buy from airline's Flight Fuel menu.
1,400+ mi: from 5:00 a.m. and 8:00 p.m., all Flight Fuel menu selections are available to buy on domestic (U.S. & Canada), Caribbean and Latin America flights.