China Southern Airlines Classes
First Class (Skybed on Boeing 787-8s) offers in-built massage, personal privacy, fully reclining seat and 17-inch personal TV. China Southern Airlines has Premium First Class on select flights, like on Beijing-Guangzhou route. The cabin features more amenities and is much more spacious than the Regular First Class, including various lighting options and private storage cabinet with password lock.
A380 First Class (Platinum Private Suite) China Southern Airlines A380 offers 8 Platinum Private Suites, each 1.52m high with 82-inch seat pitch. The motor-driven seats are fully adjustable to any preset position. Also offered is a full flat bed (33 in wide and 80 in long), 23in digital widescreen TV, private storage cabinet, 6 lighting choices.
B787 First Class (Luxurious Skybed) China Southern Airlines B787 is equipped with 4 cocoon-designed seats which offer unparalleled flight experience. Personal privacy is provided via oval back divider. Seats also feature built-in electronic massage and can be reclined to fully flat beds. Also offered are in-flight power outlet and USB port, as well as a 17 in personal TV.
A330 First Class (cocoon-designed seats converting into fully flat beds, 1-2-1 configuration, seat width 27 in, seat pitch 84 in, 17/15 in personal TV, in-flight power outlet, USB port.
Business Class offers fully flat beds, and adjustable privacy dividers. It also has a USB port and reading light, plus 15-inch TV.
A380 Business Class offers intelligent seating in 1-2-1 configuration designed to ensure that all passenger seats provide aisle access. Seats (75 or 85 in length, 24 in width) lay down into fully flat beds. Annular placement of seats with upper deck privacy forms an independent "private room" with adjustable privacy divider. Built-in amenities include 15 in digital widescreen TV, laptop stowage, reading light, literature pocket, USB port and power outlet.
B787 Business Class seats can recline 180 deg. into a fully flat bed. There is also a 15 in personal TV, adjustable reading lamp, magazine shelf, beverage stand, shoe stowage.
A330 Business Class deluxe seats lay down into a bed at just a touch of a button. There are 24 comfortable and spacious seats in 2-2-2 configuration with AVOD in-flight entertainment system.
Economy Class: offers a comfortable seat and 9 in personal TV plus multi-adjustable headrest.
A380 Economy Class (comfortable seating, 9 in personal TV and in-flight entertainment, multi-adjustable headrest, the seat pad and back are adjusted together).
B787 Economy Class (cleaner air and Improved cabin air humidity, 65% larger windows than current airplanes, electrochromic dimmable windows, new water bottle holder design, 9 in personal TV).
A330 Premium Economy Class (seat pitch 35-37 in with 40% more space, in-flight meals, tender cabin service, blankets and pillows provided on long-haul flights)
A330 Economy Class (2-4-2 configuration, seat width 17-17.5 in, seat pitch 32 in, seats feature lumbar support).
Premium Economy class (more spacious than Economy) In most airplane, seats are 35–37 in (89–94 cm), compared to 31 in (79 cm) in Economy class. However, Boeing 777-300ERs boast fixed-shell premium economy seats that are similar to those on Air France Boeing 777s.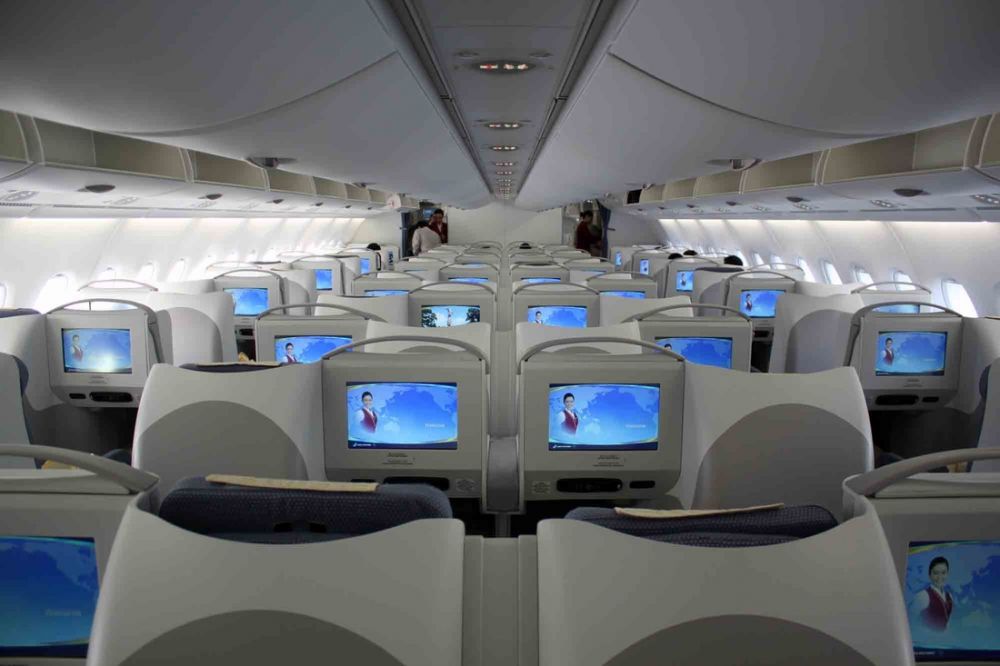 Baggage
Carry-on baggage: passengers have to put carry-on baggage in the rack above their seat or under the seat in front. Those seated close to emergency exits, wing exits and in the first row have to put baggage in the overhead rack in order to ensure that their baggage would not hinder evacuation in case of emergency. Carry-on baggage is checked before boarding. Overweight carry-on must be put in the baggage compartment. In case the total weight of carry-on baggage and checked baggage exceeds prescribed amounts, travellers have to pay excess baggage charges. The size of carry-on luggage has to be less than or equal to 115 cm (via the sum of 3 sides, approx the size of 20-inch luggage case).
Checked baggage: China Southern Airlines baggage weight & size limitations: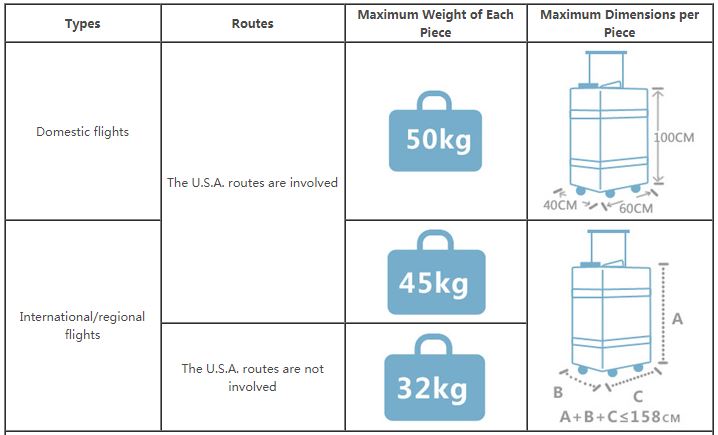 During domestic segments of China Southern Airlines' international journeys, airline's free baggage allowance for every traveller has to be calculated in accordance with the one of the international flights.
Forgoing specifications of baggage (including weight and volume) are the allowable maximum by China Southern Airlines rather than free baggage allowance, and passengers have to pay for the overweight.
Any baggage exceeding forgoing specifications has not to be transported as baggage. The airline suggests that travellers take apart and subpackage baggage in order to ensure single items to be registered, meet the restrictions and be checked as normal baggage. In case any baggage can't be separated, its owner has to consign it to China Southern Airlines' Cargo Department.
Boarding
Passengers have to check their name, flight date and flight number after receiving the E-ticket itinerary. In case there is any problem, they have to contact the ticket agency and may also inquire the ticket sales staff about the China Southern Airlines' aircraft.
Special meals have to be booked 24 hours prior to departure.
Passengers have to make sure to bring their ID card, passport, itinerary and other personal necessities.
When taking an international China Southern Airlines' flight, they should learn about the inspection and quarantine & customs regulations, the weather and the time difference at their destination in advance.
China Southern Airlines provide a quilt, long mattress, travel pillow and waist pillow for each first-class and business-class traveller of long-range international routes and sumptuous first-class traveller of domestic routes.
China Southern Airlines provide a quilt/blanket and pillow for every first-class/premium economy-class traveller of domestic routes, plus premium economy/economy-class traveller of long-range international routes.
Some blankets are offered for economy class travellers of domestic routes, that are for preferential use by the weak, sick, disabled, eldly, pregnant and kids in principle.
Passengers should get to the airport in advance in order to go through check-in procedures (document examination & security check) so as not to miss their flight.
Food & Drinks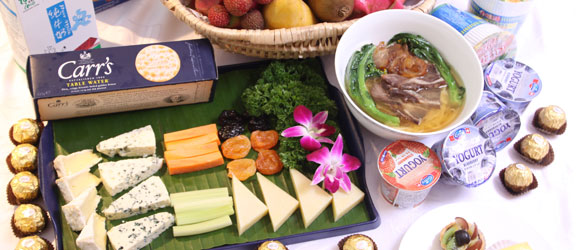 Two or three meals are offered onboard China Southern Airlines long-range international routes. One meal/snacks are offered for domestic and short/middle-range international flights. After the airplane is leveled off the stewardess announces the meal time in the broadcast. Those passengers who have any special need have to contact with the stewardess.
China Southern Airlines also offers free drinks and refreshments during their flights. After the meal, dishware (plastic cup, fork, spoon, knife) are collected by the stewardesses for reuse after sanitization. The airline also provides late night snacks between a couple of meals for long-range international flight. Travellers can enjoy these at any time. First- and business-class cabins feature self-service bars for provision of snacks, beverages, fresh fruit and chocolate.