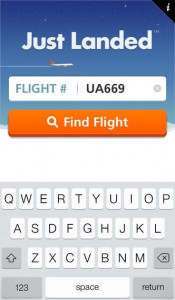 In a scenario in which you are tasked to pick somebody up from the airport, it is a given that almost any flight tracker will do the job for you. They are all able to let you look up a certain flight, and tell you when it arrives. But there are mobile apps that will simply overburden you with their large array of features – why would you require airport info or an in-flight map? The only information you need is when to go and pick up your respective party. For the purpose of doing exactly that Just Landed ($2) seems to be the best when regarding flights within Canada and the United States.
In order to use the app you will be needing only the flight number and the airline code of the flight you are interested of. If you happen to not know the airline code (for example United Airlines code is UAL), the app will provide you with an option to look it up. When you enter the respective airline code and flight number, the app will display one screen with all the information you require in order to pick up your party from the airport.
The flight tracking app for iOS Just Landed is also pleasing to the eye as it displays an airplane that moves over the terrain on the home screen, marking the progress of your trip. If your plane has not taken off, you are to see a static plane image at a gate.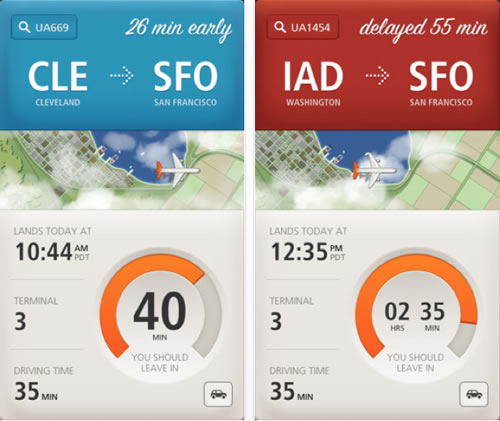 Just Landed's design is quite simplistic and it this is a major plus – it has every single feature you may require and not a single one that will overburden you with unrelated info. The app's single screen has exactly 8 data items on it: departure and arrival airports, flight number, an estimation of the driving time to the airport, arrival time and gate, an icon providing you with driving directions a tap away and the most important feature, which takes up close to ¼ of the screen – a "you are to leave in…" graphic that reminds you of how much time you have in order to make it on time. It takes into consideration the distance from your position to the given airport, and it is also worth noting that it accounts for traffic delay plus an estimation of the time it normally takes a passenger to disembark and pass through the necessary procedures. The app is fairly accurate in its calculations, excluding cases in which some unforeseen event occurs. It also notifies you in order to not miss the time of departure, and informs you about any relevant data regarding the flight.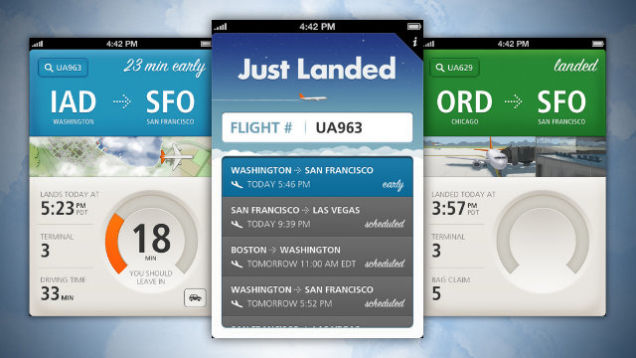 It is quite handy that when you arrive to the given airport, Just Landed prompts you to send your party a text message – and given that you are able to do it directly from the app itself translates into the fact that there is a lesser chance you forget and also it means that you won't have to use another flight tracking app (or the phone even) to inform them that you have arrived and are waiting for them.
Just Landed may not be free but it is among the few flight tracking applications for iPhone and iPad devices out there that provide you with a fairly accurate estimation of the time you need to arrive at the given airport, which alone makes it a reasonable $2 purchase.