For the people that fly on a more frequent basis, it is of high importance that a flight tracking application for iOS is able to support multiple itineraries, provide airport and weather forecast data, and allow them to easily add any future flight they may need. The apps are to launch quickly, without any unnecessary lagging and feature an intuitive interface.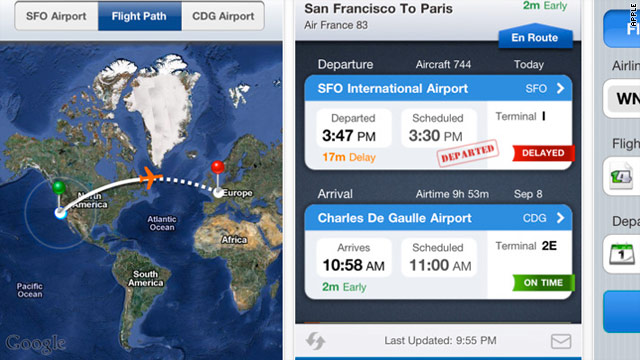 Out of all examined apps, the app to best meet the above-stated requirements was FlightView, which comes in 3 editions (all 3 of them come along with the same 10 major features):
FlightView Free, which features in-app adds;
Then you have FlightView ($1), which removes the ads,
And the 3rd edition being FlightView Elite, which provides you with the option of adding airport arrival/departure boards.
Out of all 3 versions the $1 one seems to be the heftiest – you are not going to be bothered by any ads, and the only feature you compromise is the airport arrival/departure boards (which actually has a rather limited level of usefulness). Plus you can always upgrade to the $3 version if you feel the desire to try it out eventually.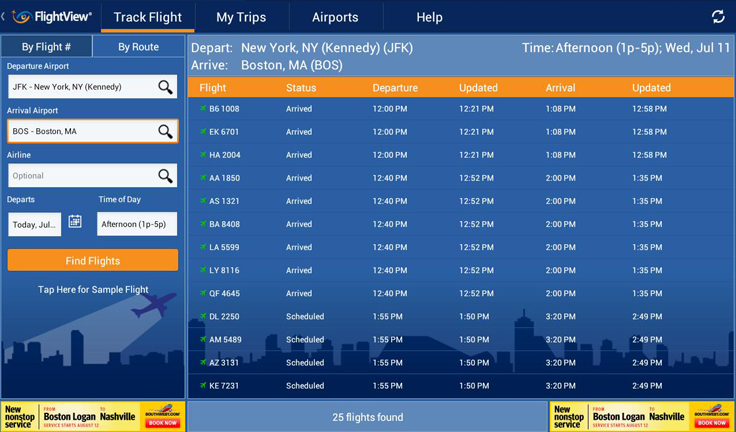 The app's main screen is a simple overview of your home airport (flight delay info, weather data, arrivals and departures if you've opted for the FlightView Elite version for iPad and iPhone devices), as well as the trips you have planned.
There is an array of buttons set alongside the bottom of your phone's screen which let you effortlessly tap into the details of your appointed trip, get information about certain airports, track a particular flight, and change the settings of the app. You are able to track a given flight by its route or respective flight number, and you have the option to get a sample flight merely by shaking your Apple device.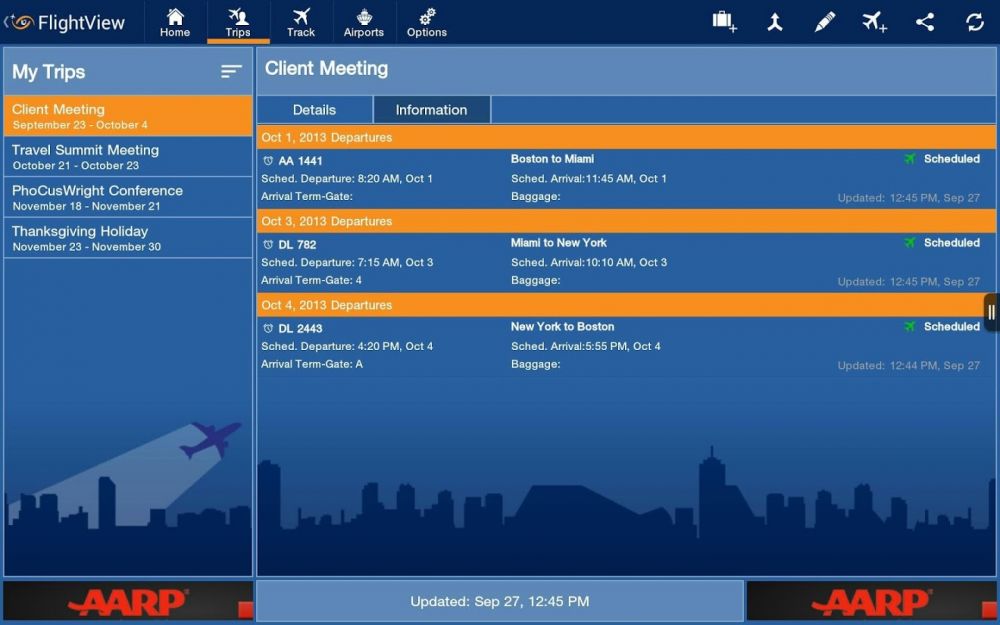 FlightView is among the apps that use their own website in the role of a central repository of flight data – all the flights you decide to add to the app will appear on an automatic basis and vice versa. You also have an option to forward your itinerary emails to the said website, and their flights are to be automatically parsed and included to the app's list (provided that you carried out the booking process via a provider supported by the app). It is quite helpful that the app actually organizes your flights by trips, so it is pretty easy to form an intricate multi-city trip, and you also don't have to confine yourself to setting a single one, as the app provides you with the option of inputting multiple ones at a time. Individual flights along the lines of one trip can each have a notification enabled or disabled, and you also have the option to add notes to them if you want.
When you track a particular flight, the app provides you with access to detailed data regarding the flight, an in-flight map, and a notes/notifications tracking screen. The info screen features the normal stuff – the aircraft's model, altitude, speed, departure and arrival info with weather data, and the flight's arrival gate.
You may even receive the baggage claim number in some instances, as there is a telephone icon that provides you with a connection to the flight's appointed carrier. If you require more info regarding the departure or arrival airport, you will be able to receive information about potential delays, weather forecast data and driving directions by merely tapping on a single button. (The users that opt in to go with the Elite version of the app will be able to receive arrivals and departures data.)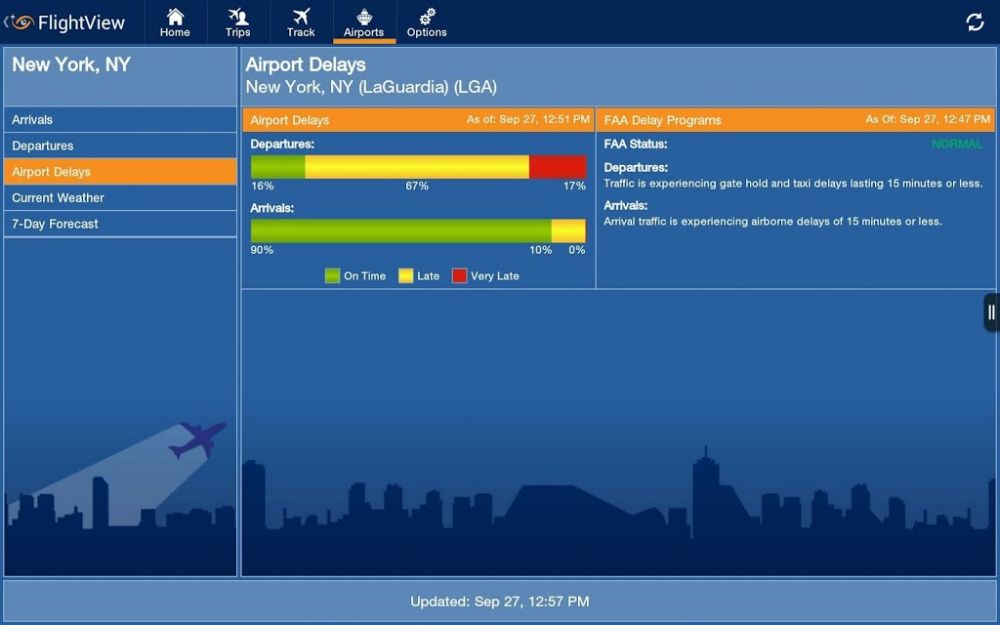 The map that the app provides you with is quite functional and features an overlay of the weather (for Canada and the United States at least). You will not be able, however, to zoom in, and it does not include notable landmarks. If your flight happens to be a long one, the entire map will be zoomed out in order to display both the departure and arrival airports, which can lead you to having quite the small map with quite the big aircraft on it. In conclusion, though, the map will provide you with all of the necessary information, given that you have an in-flight Wi-Fi connection.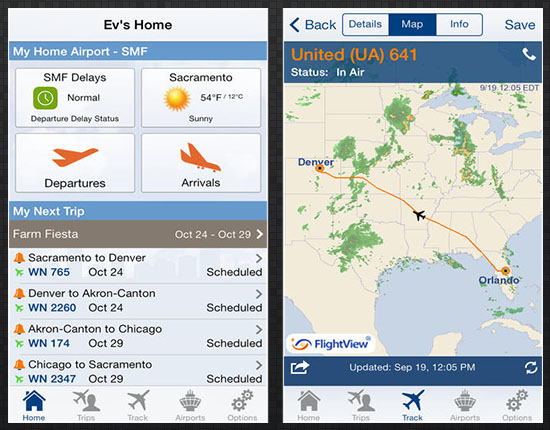 The one thing that FlightView misses is an airport terminal map database. While this can't be attributed as an issue for airports that you visit on a regular basis it can be quite troublesome when you are at an airport that you've never been to before.
Disregarding the short list of issues the app has with its in-flight map and its lack of airport terminal maps, there are a lot of things you'll get to like about the flight tracking application FlightView if you are a frequent flyer. And the $1 version is definitely a bargain to die for.