In a scenario involving a loved one having to fly across country, or across the world, it is highly probable that you will search for means to track the flight in order to check if that particular person has arrived safely. It is only natural, especially when given the lost planes and things of that nature that have occupied your news feed as of recent. Luckily, there are a lot of great apps to aid you in your quest. Below you can catch up on 10 of the best flight tracking mobile applications for Android devices:
Airport (AII) + Flight Tracker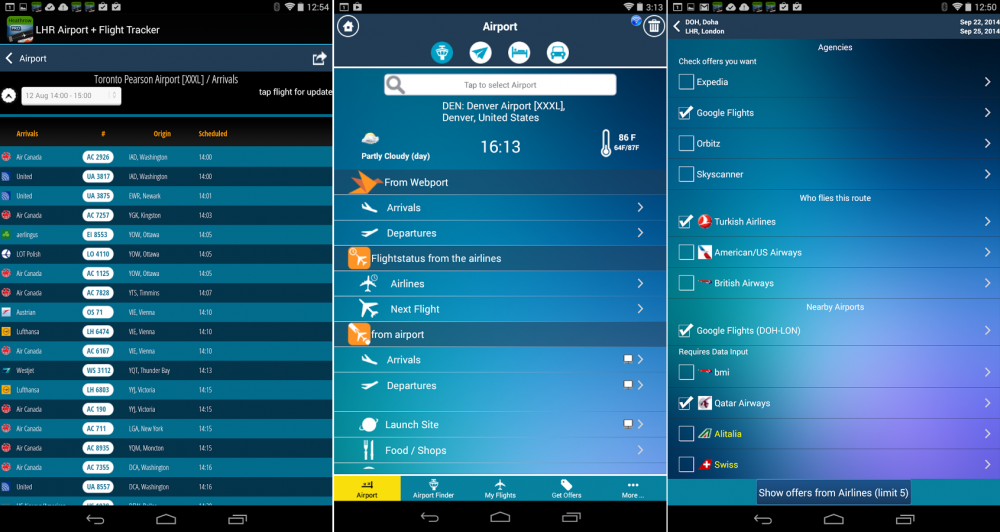 If you choose to go with this particular app you are to know that it works by breaking down the different number of flights by airport. It has a large array of a total of 2500+ airports. It will provide you with features such as Live Arrival and Departure boards, Terminals maps, Parking, Google Flights, Food and Restaurants, Google Plus, Ground transportation and you also have the option to integrate it with your Android Wear-watch. The most intriguing aspect of this flight tracking app, however, is that it provides you with maps of the different terminals, which could come in pretty handy at a certain situation.
Download Airport + Flight Tracker for Android
FlightRadar 24 Free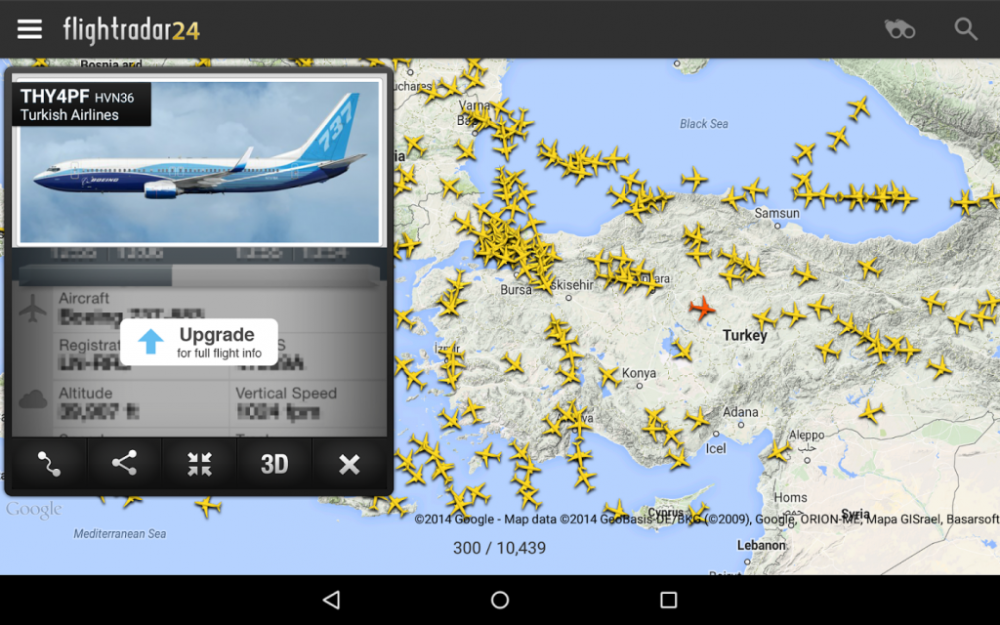 This particular flight tracking app gives you a vast amount of options – starting from watching planes move in real-time and going all the way to providing you with all sorts of airline and callsign data for any plane you may be interested in. If you decide to go and buy the FlightRadar 24 Pro edition of the app you will be getting: Comprehensive data for each plane, such as its particular route, altitude speed etc. Augmented reality view – identify each plane flying over you by just pointing your phone's camera up to the sky. Search easily for a particular flight, filter by airline, speed, altitude etc., get emergency squawk sush notification alerts, see airline logos in connection with the aircraft, flight trails and callsigns directly on the map.
Read a detailed review of FlightRadar 24
Download FlightRadar 24 Free for Android
Airline Flight Status Tracking
By using FlightHero you will be able to track any flight you want, see the board and acquire information about arriving and departing flights from any given airport. You have the option to tie the app into your Triplt account and also follow your flights through there. You are going to have the ability to follow the plane's actual position as well as get info regarding the aircraft's specific cruising speed, which is bound to thrill any aviation geek.
Download Airline Flight Status Tracking for Android
Flight Tracker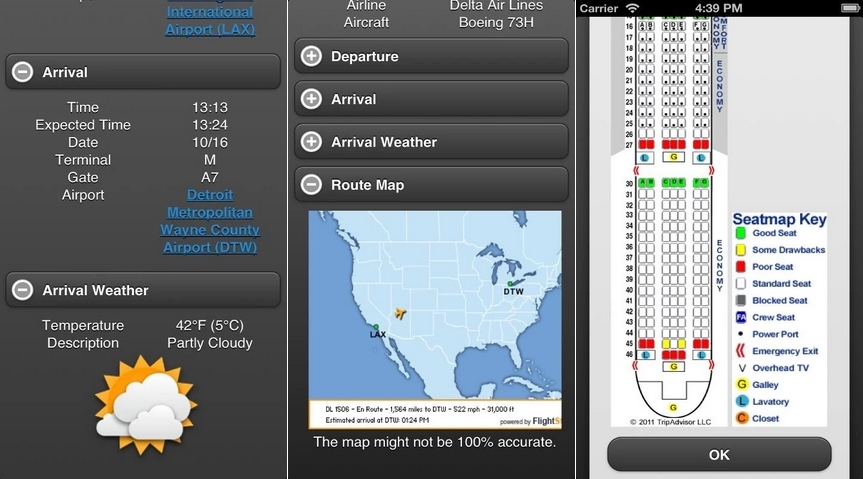 This flight tracking app does not have as many features as a couple of the other ones listed in this article, it, however, enables you to enjoy simple features like Get real-time flight status. It works on a global basis and will supply you all departures and arrivals and boarding gate data and info. Flight Tracker may not be an app that dazzles you with looks, but it gets the job done.
Download Flight Tracker for Android
PNR Status Rail Flight Tracker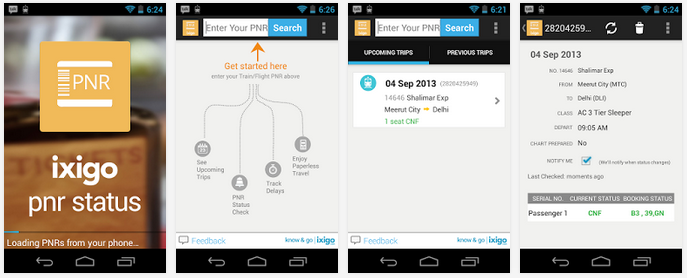 With this app you will be able to track flights as well as trains, which as you can presume makes it quite unique. It comes along with an Automatic trip PNR identification, PNR Status alerts, Flight Delay alerts, Review your trip status feature, Train Delay alerts, Paperless Entry to Airports, Paperless Boarding for Trains, Flight web check-in alerts, and with a See all your PNRs in one screen option.
SeatGuru: Maps+Flights+Tracker

The app in question provides you not only with a flight tracking option but also enables you to see seat positions on different model planes, which can be quite helpful. You can also view maps in order to see the exact route that a certain plane is taking for it to reach its destination and check when it will arrive or if it will be early. The app offers a satisfactory UI, which is very important about a flight tracking app of this kind. It is also completely free, without any in-app purchases.
Download SeatGuru: Maps+Flights+Tracker for Android
RadarBox24 Free Flight Tracker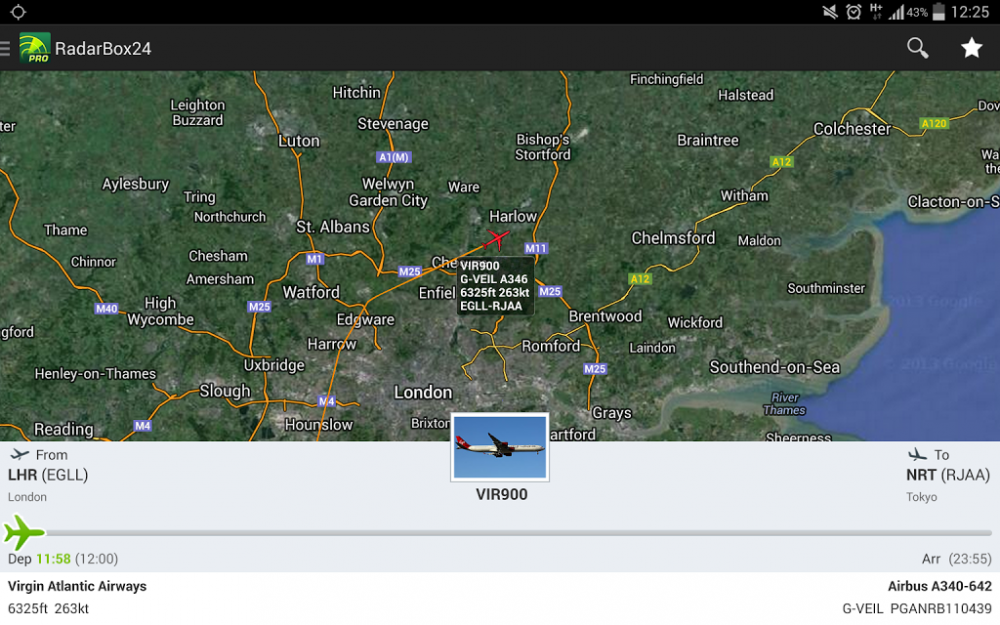 This app will allow you to easily radar and track all type of flights, to and from the United States or any other country of your choosing. It provides you with flight data on a direct basis from the aircraft transponder right onto your phone, which gives you the unique opportunity to track flight in real-time with great precision. The app was designed by professional airline pilots so it is pretty accurate and up-to-date with the information it provides you. It has a hefty option – SkyView – via which you can just point your phone's camera towards the sky in order to identify a particular flight. The app has an ensured continuous network growth level due to the all new Radar-Boxreceivers that are deployed on a daily basis all around the globe. You will have an easy time with the complete search functionality it offers: you can search for a specific flight, or city, or airport, depending on the criteria you have to use for your search process. The app will supply you with radar position estimates, give you the option to save your favorite locations and keep track with daily updates of aircraft photos. It also has a real-time departure/arrival ticker that you may find useful.
Download RadarBox24 Free Flight Tracker for Android
Download RadarBox24 | Plane Tracker Pro for Android
Download RadarBox24 Elite Plane Tracker for Android
FlightView Free Flight Tracker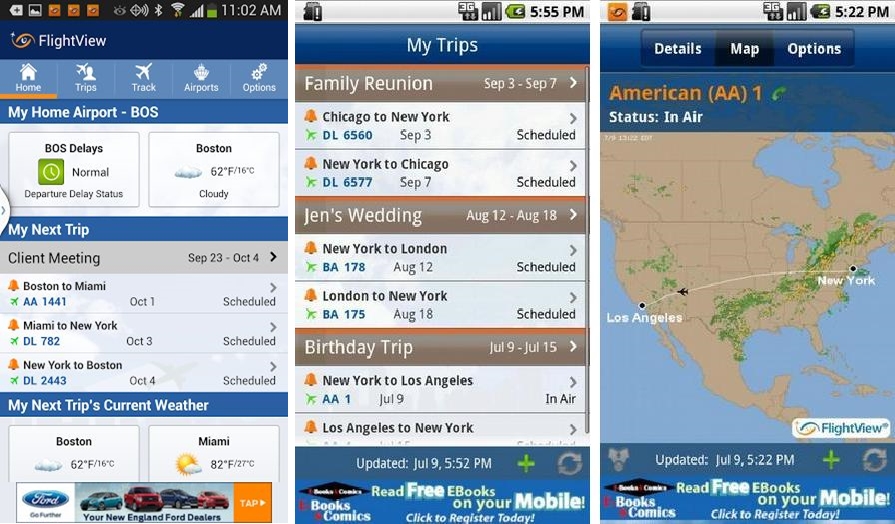 FlightView has integrated a large number of different features in their Flight Tracking application including a My Home page section, which provides you with an easy view into the current status of your home airport and your next trip, an option to have a look at all terminal, gate and baggage claim -related information, to check the destination from which your plane is coming from, and get to know its status by using Aircraft's Previous Flight, search for various flights up to 350 days prior to their departure and save them, track flights via a map feature that displays any given flight's respective path and current radar weather conditions, Flight Status Push Alerts regarding flights stored in the My Trips section, you can easily find and mark alternative flights by simply viewing flight schedules between cities and also use the Driving Directions to Airport integration via Google Maps.
Read a detailed review of FlightView for iPhone and iPad devices
FlightAware Flight Tracker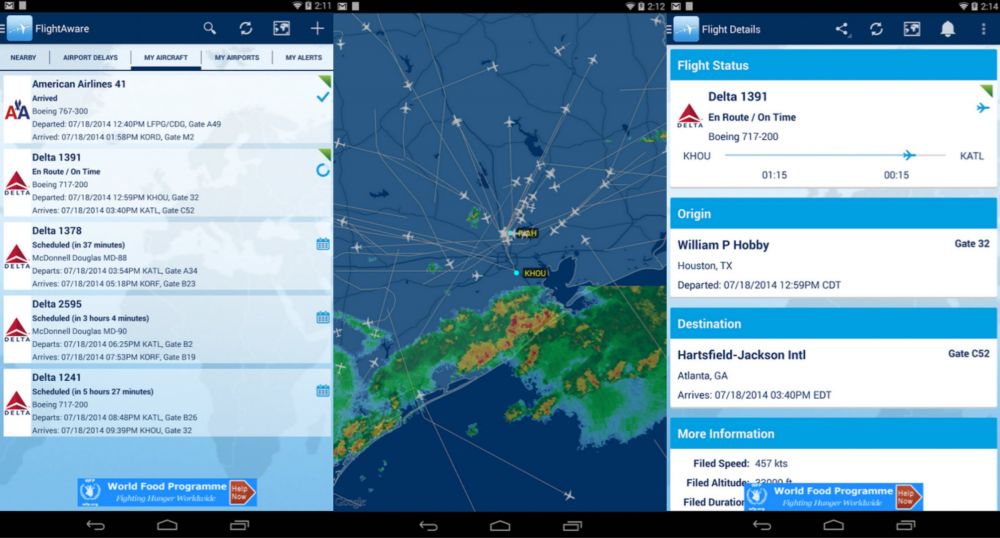 If you decide to go with FlightAware you will get the option of filtering various flights by airport and by destination or airline, which is actually quite useful if you are trying to see when has you flight been scheduled to arrive or respectively take off. Disregarding the fact that it is a nice-looking app, it is worth pointing out that it demonstrates a more up-to-date level of information that a lot of other airplane tracking apps or even the Google Now cards.
Read this detailed review of FlightAware
Download FlightAware Flight Tracker for Android
Conclusion
There are so many flight tracking apps you can choose from that a week won't be enough to browse through all of them but keep in mind that most of them are actually quite good in what they do. This article focuses on those apps that will get the job done whether you are the one on the plane or the one waiting to pick the one from the plane. Given the ratio between the small sample size of flights regarding each app's review and the enormous number of flights taking place on a daily basis it is advisable that you back up your app with a check every now and then of the airline's website or own application in order to be completely sure of your flights' schedules.