FlightAware, founded as a global aviation service in Houston, is a good alternative of aircraft tracking & flight tracking systems such as PlaneFinder and FlightRadar24. FlightAware is likely one of the first websites offering flight tracking services of commercial and private aircraft in the U.S., Canada, New Zealand and Australia, for free. Furthermore, in terms of monthly visitors, FlightAware is one of the largest aircraft tracking service providers all over the globe.
FlightAware assists in the operations of organizations in the aviation industry, as well as provides data services to aircraft and airport operators. FlightAware with its flight tracking & aircraft tracking services, interactive map with weather layers and aviation statistics, facilitates the airport authorities in more than 50 countries across Europe, Oceania and North America.
FlightAware is a sophisticated system providing its users with real time flight tracking and airport tracking services. Furthermore, FlightAware provides much more additional information such as airport fuel prices, online pilot flight planning, news and photos related to the aviation industry directly to the website or either via e-mail newsletters with over 3 million monthly circulations.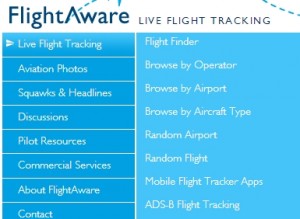 There is an advanced search filter that is implemented in the main menu at the left side bar of FlightAware's home page. You can browse by: operator, airport, aircraft type, random airport, random flight.
FlightAware offers another very interesting service – providing real time contract card fuel prices for Aviation and Universal Weather for operators of planes who have a UVair fuel card.
The website offers services for registered user only. Once you've registered, for free of course, you will have access to additional functionalities and features, as well as the chance to participate in community features. You will be able to submit news and stories related to the aviation, upload aircraft photos, setup aircraft alerts, take part in forum discussions and many other features.
As a flight tracking system, FlightAware serves more than 300 million flight tracking pages to more than 5 million visitors every month.
Searching for an airport on FlightAware's website you will see the following information:
Complete list with all arrivals, departures, or scheduled to land or leave a particular airport planes
Interactive real time map with weather condition layer and airport diagram
Statistical information such as average number of operations per day, runway information, radio frequencies etc.
A list of FBOs (fixed-base operators) including nearby FBOs at other airports with lower prices or even nearby hotel and restaurant contacts.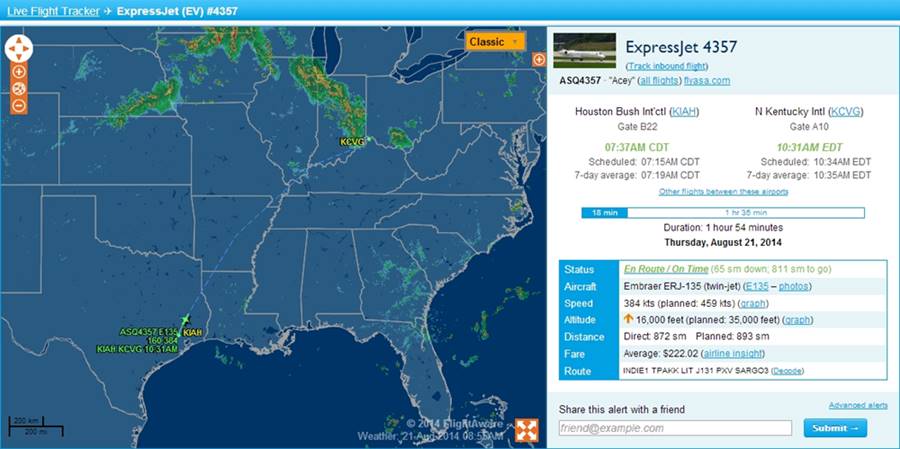 You can also search by plane's registration number if the flight is non-commercial, directly by airline flight number, or just select a flight from a drop-down menu from an airport's status page. The information includes:
Plane's status (En Route / On Time; Arriving Shortly etc.)
Aircraft type (e.g. twin-turboprop)
Speed of the aircraft in knots or miles per hour with additional option to view a graphic of its speed
Aircraft altitude with a graph showing the aircraft coordinates (latitude and longitude) by timestamp
Activity Log of FlightAwareAircraft distance (e.g. Direct: 533 sm Planned: 554 sm)
Type of the plane's cabin (e.g. Economy: Complimentary Alcohol, Refreshments)
Aircraft route (e.g. RABIK Q975 ANTOV MLT J500 YQM)
Time elapsed and time remaining of the flight
Activity log that shows to which airports the aircraft had flown for the past 4 months (for registered users). There is even a paid service that shows the full activity log of all aircraft back to 1998.
In addition to the services of the flight tracking system, FlightAware offers statistics for the flight cancellations in real time, as well as airport delays. Moreover, there is another interactive map, called MiseryMap that shows all delays of the flights, cancellations and weather condition all over the United States.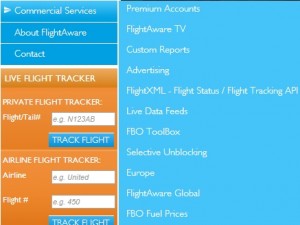 FlightAware offers many additional commercial services aimed at the business sector and professionals from the aviation industry, including:
Premium Accounts
FlightAware TV
Custom Reports
FlightXML – Flight Status data
Live Data feeds provision etc.
FlightAware Mobile Applications
The flight tracking & aircraft tracking system FlightAware is available for iOS and Android mobile devices. Through the mobile application you can check the flight status in real time and track the flight on a map of any commercial flight all over the world and general aviation (private, charter, etc) in Canada and the United States.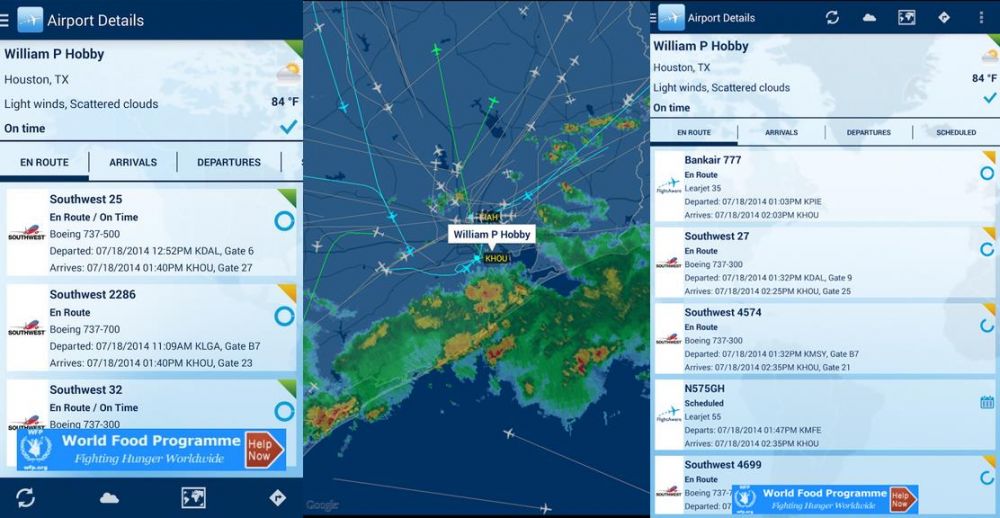 You can search by flight number, tail number of the aircraft, routes or search by airports. The is a feature that shows nearby flights or turn on MiseryMap providing information for flight delays.
The mobile application may ask you for access to your Contacts, but it is only used when you choose to create a custom flight alert to be sent to another person. FlightAware, in no circumstances, store your contacts list, neither transmit it to a third party.
The design of the mobile application of FlightAware is very clean and simple, and most importantly, easy to navigate.
Pros
If you are one of those aircraft enthusiasts or you work in an FBO, you will just love this flight tracking system. You are able to look up the aircraft tail number or track it at your local airport through out the website or either on your mobile device. The flight delays tool is a great feature that will keep you informed and may save you a lot of time if your flight is delayed.
Cons
If a particular aircraft's tail number is blocked, despite it's not FlightAware's fault, you will be unable to track the flight.
Verdict
Whether paid or free, this flight tracking & aircraft tracking system is one of the best services of its kind, comparable to FlightRadar24 and PlaneFinder. FlightAware is a must have app and a very sophisticated flight tracking platform.