FlightRadar 24 PRO ($3) is the perfect app choice for any aviation enthusiast. It is important to note that while the app may run on the iPhone as well as on the iPad, it is much better on the latter due to its magnificent visualization. It is perfect for looking at the commercial aviation on a worldwide scale. The app displays as many active flights as it has info for on a scalable map – if you zoom out enough, you will be able to see an astounding amount of flights.
The map constantly updates in real time, so naturally you have the option to merely zoom in on an airport of your desire and watch as the traffic flows in and out. By just tapping on any given plane you will be able to see its flight path, along with an additional window that will bury you in information: departure/arrival times and airports, airline and flight number, a flight progress bar, and a lot of other details regarding the plane itself. You can also view the registration number of the plane and the radar squawk code. The typical things will also be there – altitude and speed, but the app also provides track and vertical speed data.
At the overlay window's bottom of the FlightRadar app for iOS there are icons via which you can isolate a particular flight, share it with somebody if you want and even provide you entrance to a virtual 3D cockpit by simply tapping the 3D button – you will be able to see the terrain that is seen by the plane's actual pilots. While there is a slim chance that you ever take this for an actual flight simulation, the 3D view is really impressive.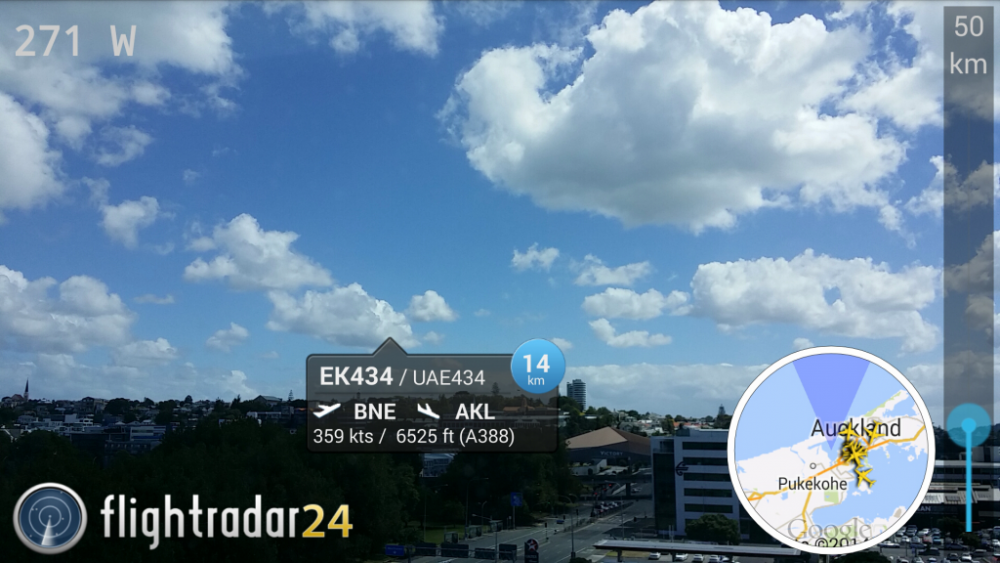 The app also features an augmented reality mode – if you simply point your device up towards the sky, you will see a small overlay tag regarding any plane that is in sight (virtual sight that is). By doing this you will get information on the flight's airline and respective number, how many miles away it is, its route, model and current speed and altitude level.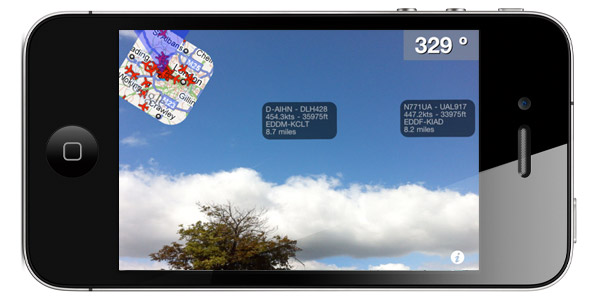 Purely from a technological standpoint, this option is quite the impressive one. Siri, of course, is able to provide you with information just like that (What planes are overhead?), but it does not present its data in the graphical real-time way that FlightRadar 24 PRO does.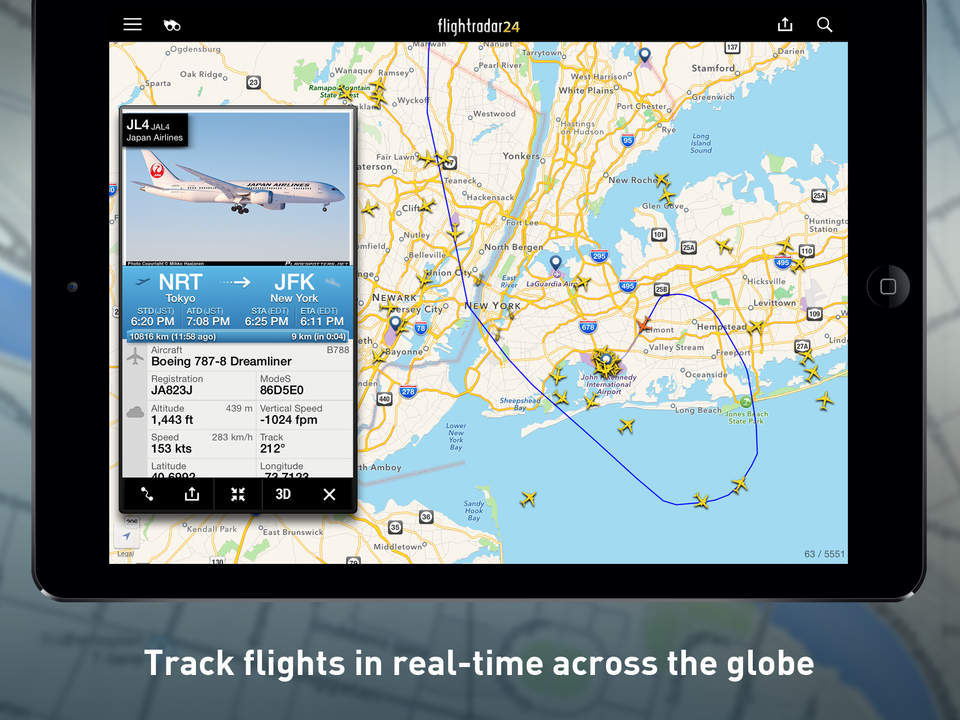 If you decide to go along with a $2 in-app purchase for FlightRadar 24 PRO you will be able to see any given airport's respective arrivals and departures and if you opt in for a $5 in-app purchase you will have the option of creating custom alerts that will be triggered on the basis of flight number, geographic location, aircraft or airline. While this may be fun, it is quite the unnecessary purchase actually. There is a final $2 in-app purchase that will replace the generic plane icons with real model-specific representations, which could be very useful when you are trying to find a particular aircraft type, thanks to FlightRadar 24 PRO.