PlaneFinder is another good plane tracking system providing real time flight information, as well as FlightRadar24.
The aircraft tracking system, just like its biggest competitor FlightRadar24, picks up the real time ADS-B feeds transmitted by most of the commercial aircraft and display the flight information on an interactive map. PlaneFinder monitors a large number of aircraft in Europe and North America, part of South America, Asia, Australia and East Asia.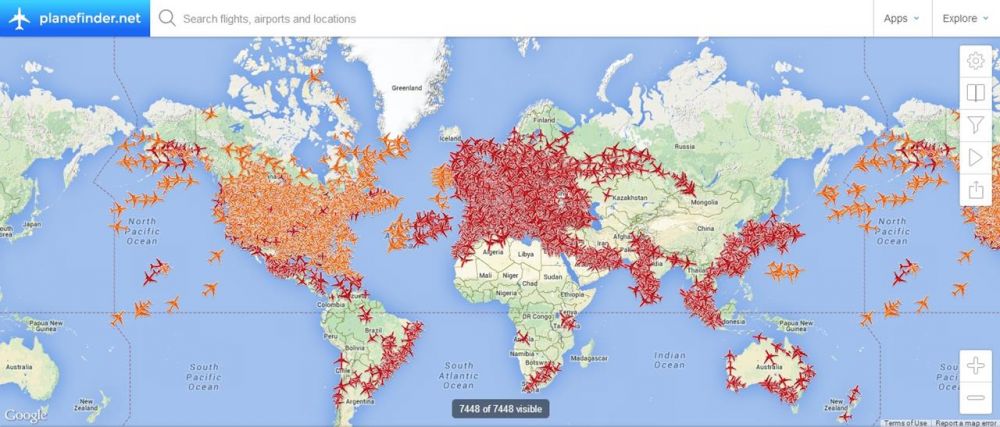 The PlaneFinder's homepage displays a map of the world all covered in tiny plane symbols that represent every flight in the sky. When you hover over any plane symbol on the map a call number, along with the plane's altitude and speed pops up.
Once you select any particular plane on the map and a pop-up will appear on your left with full flight information, such as planes' photo, aircraft type, registration, airport of departure and airport of landing, ETA, altitude, speed, heading etc. It's indeed, very though to track a specific flight that way, but it's still neat to use PlaneFinder to survey the skies. Moreover, there is a search that allows you to search by flight number, airport name or even by location. Filtering application displays data aircraft like registration date of the plane, rollout, time of delivery, tail etc.
PlaneFinder filtering options
You are able to optionally specify different display modes, as there is a great variety of filtering options on the right side bar.
You can manually turn on a Cloud layer, as well as a Weather layer, which will allow you to see what the weather conditions in every airport and every point on the earth is. You can also choose between four map types and even set the dimming level:
Terrain
Road
Satellite
Grayscale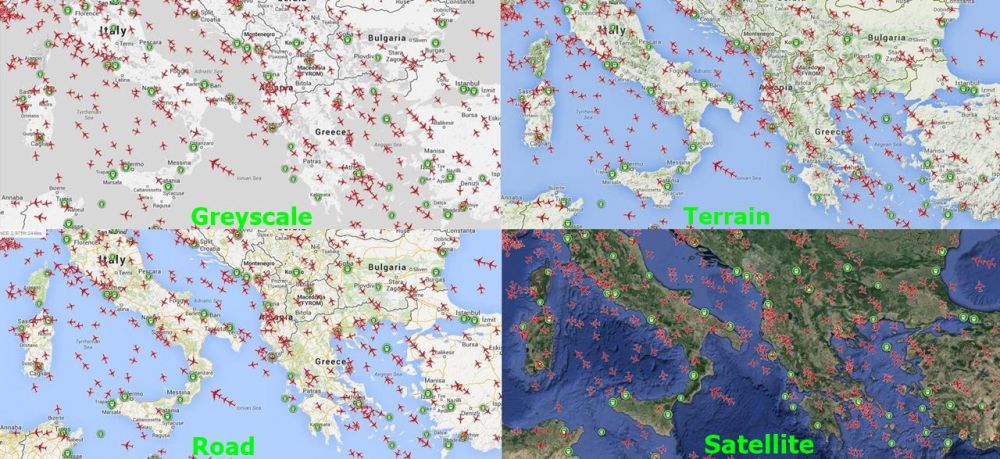 There are many filters that allow you to adjust aircraft:
Speed to be displayed in Kts, MPH or even KM/H
Altitude to be displayed in Feet or Meters
Distances to be displayed in Miles or Kilometers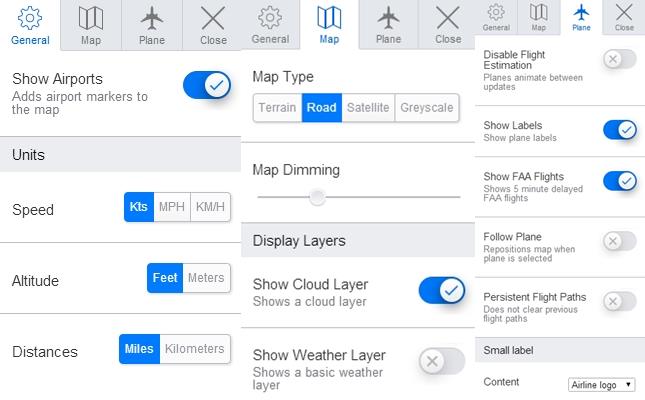 What's even more, you are able to filter the aircraft data on map by different criteria or even create customized filters by your own.
Compared to FlightRadar24 and FlightAware, this aircraft tracking & plane tracking system has some additional advanced filters e.g. display all planes above a certain height, speed or indeed of a certain airline.
PlaneFinder, aircraft tracking in 3D view
Similar to FlightRadar24, PlaneFinder offers a great feature called "3D" that recreates the real time aircraft data in spectacular 3D view. Compared to FlightRadar24, there are no additional tools available when in 3D view, like getting in the cockpit, however PlaneFinder does have a great coverage (around 12,000 aircraft all over the world) as well and you can switch to 3D view with a Google Earth plug-in installed on your browser.
The PlaneFinder 3D view is even more developed for mobile applications of this plane tracking system. With just one tap over a plane you are able to move around terrain, see planes as they fly overhead and zoom in.
PlaneFinder Mobile Applications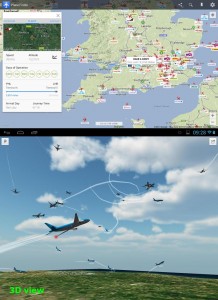 The flight tracking & plane tracking system PlaneFinder offers an array of mobile applications. Launching it on your smartphone or tablet you can follow your journey, in 3D view as well, and see which is the plane around, its direction and progress, which is awesome. PlaneFinder is available for:
PlaneFinder lets its iPhone users point their phones at the sky and see data about flights passing overhead.
The free version of Plane Finder Mobile shows you the real time aircraft positions along with the flight and registration numbers of the planes.
The full version of PlaneFinder shows wide range of additional features amongst which: search option, comprehensive aircraft data, advanced flight information, planes' photos and more.
Verdict
The aircraft tracking system PlaneFinder is a worthy competitor to FlightRadar24. We loved playing with PlaneFinder, however we recommend you trying out the free version of the flight tracking application first to see if you are at risk of becoming an Airbus bore.