Ryanair inflight meals aren't included in the price of the ticket. The airline offers a buy onboard menu which changes a few times per year. Ryanair offers Lavazza coffee inflight and airline's onboard cafe called "Getaway Cafe". Meal options vary depending on where passengers are flying to and from and include sandwiches, hot snacks, snack boxes, hot and cold breakfast options, and more.
Here are some sample Ryanair Food & Drinks offerings:
Special K Bar, Nature Valley Bar, Britvic Orange Juice €2,00
Chocolate Croissant, All Butter Croissant €2.50
Ham & Cheese Croissant €4,50
Meal Deal: Hot drink, Pastry and Breakfast Bar €7,00
Sweet Breakfast: Lavazza Coffee €3,00 Crumble & Co €2,50 (both for €5,00)
Low-Cal Tonic, Britvic Tonic Water, White Lemonade, Orange Juice €2,00
Pepsi, Pepsi Max, Iced Tea, Fruit Shot €2,50
Lavazza, Short Lavazza, Cappuccino, Hot Chocolate, Tea, Water €3,00
Hot Drink & Kit Kat €4,50
Beers (Heineken, Bulmers) €4,50
Spirits (Absolut, Beefeater, Bacardi, Jack Daniels, Grant's), Camus Brandy €5,60
Rio Anejo Merlot, Fuego Verdejo €6,00
Canti Prosecco €7,00
Meal Deal: Wine plus Gourmet Snack Pack plus Oloves €12,00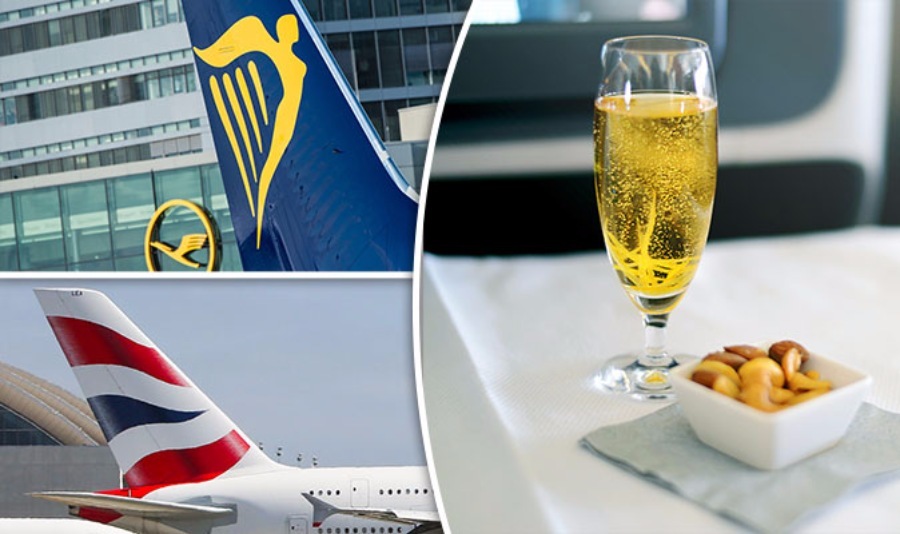 Ryanair Fresh Snacks and Food
Oven Chips €3,50
Sandwiches €4,50
Mediterranean Panini, Ham & Cheese Panini, Kids Box (Chicken Nuggets plus Oven Chips) €5,50
Mayonnaise or Ketchup €0,25
Meal Deal: Panini plus Water/Hot Drink plus Crisps €10,00
Classic Fruit Cake, Chocolate & Cranberry Cake €2,50
Batchelors Cup a Soup €3,00
Cup Noodles €3,50
Ratatouille, Lasagne, Sweet & Sour €6,00
Meal Deal: hot meal plus water/Hot Drink plus Crisps €10,00
Snackboxes: Cheese, Crackers, Crisps, Pate and a mini Mars €5,00
Gourmet Snack Pack: Italian Breadsticks, Cheddar Cheese Spread, Hummus, Roasted Corn Kernels, Pretzels and Mini Lily o'Briens Chocolate €6,00
Snack Pack Deal: Gourmet Snack Pack plus Water plus €2,00 Snack = €10,00
Green Olives, TicTac €1,50
Pretzel Bites, Peanuts €2,00
Boxerchips (Salt & Vinegar/lightly salted), Pringles €2,50
Lucky Bag €4,00
Fruit Shoot plus Kids Meal plus Lucky Bag €8,50
Choco Pops Bar, Shortbread, Chocolate Wafer €1,50
Kinder Bueno, Nature Valley, KitKat, Special K Bar, Snickers, Twix €2,00
Rainbow Belts, Jelly Twists, Sour Jellies, Panettoncino, Nutella & Go, Crumble & Co (Chocolate & Cranberry or Fruit Slice) €2,50
M&Ms, Maltesers €4,00
Deal: 2 Hot Drinks plus M&Ms/Maltesters €9,50.