Ryanair Classes
At Ryanair passengers can choose from 2 different travel classes: Economy and Business Plus.
Economy Class (economy-only product). Seats' allocation is free of charge but in case passengers want to reserve a specific spot, they have to pay a fee. Priority boarding and seats with extra legroom (premium seats) also bring extra costs.
Business Plus (offers a number of advantages in comparison with Economy). Business travel class provides free airport check-in, flexibility on tickets changes, priority boarding, a 20kg checked bag, premium seats (subject to availability).
Ryanair Seats
Priority with extra legroom: Passengers can be first onboard and make quick getaway on arrival with front row seats. Book rows 1A,B,C, 2D,E,F and 16-17 (£15).
Priority seats: Passengers can kip the queues via Priority Boarding and profit from guaranteed overhead luggage space (rows 2-5, £13).
Standard seats: Those passengers who cannot stand the middle seats can pick from a choice of seats and get up to 50% off reserved seats (£2).
Ryanair aircraft seat dimensions
Legroom in rows 1A,B,C and 2D,E,F as well as in rows 16/17 (emergency exit seats) is 40 in (101.6 cm)
Legroom in other rows is up to 30 in (76.20 cm)
Seat width between armrests is up to 17 in (43 cm)
Height from floor to overhead control panel is 64 in (162 cm)
Distance from front to back of seat cushion is 23 in (58 cm)
Height from seat cushion to top of the seat is 27.2 in (69 cm).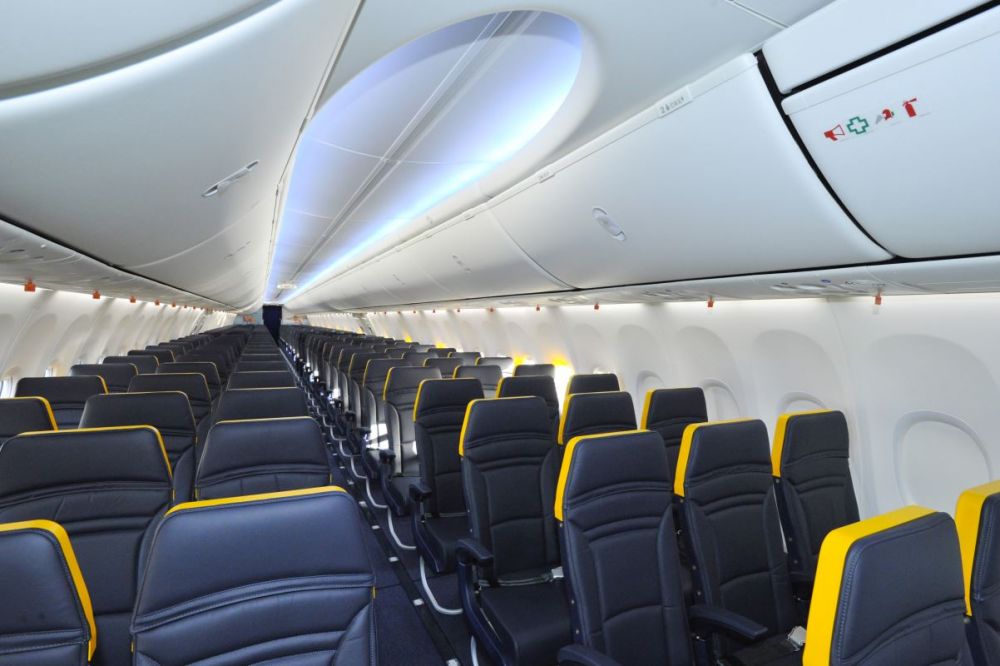 Baggage
Hand Baggage: Ryanair passengers may take a main item of hand luggage into plane's cabin (max 55x40x20cm in size, 10 kg in weight). They may also take one smaller item, like a laptop or handbag, not bigger than 35x20x20cm. Hand luggage is free of charge. If overweight, it will either be refused or will be, where available, placed in the hold of aircraft for £50.
Checked Baggage: Ryanair passengers can check in 2 bags at either 15 or 20 kg, which they can choose from during booking. Their dimensions must not exceed 81x119x119cm. Prices vary depending on the travel dates and route. Booking baggage online is cheaper than at the airport. A bag which weighs 15kg costs £10-50 online or £25-50 if booked at the airport. A bag which weighs 20kg costs £15-60 if booked online or £35-60 at the airport.
Excess Baggage: In case checked bag weighs over 15kg/20kg (depending on which passengers have booked), clients may buy excess baggage up to a max of 32kg at the airport ticket desk. Excess baggage is charged £10 per kg.
Boarding
Check the latest travel alerts before your flight and get flight status info for gates and times. Download Ryanair app at ryanair.com to get access to all info you need before, during and after the flight.
Once you have checked-in for the flight via the Ryanair app, your mobile boarding pass will be automatically saved onto the phone. It can be viewed by the Ryanair app after selecting 'Boarding Pass' from the home screen.
The mobile boarding pass is used the same way as a printed one. Just bring the mobile phone with your boarding pass to the airport, along with the accepted form of photo id.
Ryanair accept mobile boarding passes on flights from most airports, but have in mind that some airports can't accept mobile boarding passes.
The boarding gate opens 30 min prior to the scheduled flight departure time. Priority Boarding passengers are allowed to board first.
There is space for a maximum of 90 cabin bags to be carried in the cabin of the plane. Once these spaces are filled the remaining baggage is placed into Ryanair aircraft hold for free.
The boarding gate closes 20 minutes prior to the scheduled flight departure time. Travellers who arrive late are not permitted to board the airplane.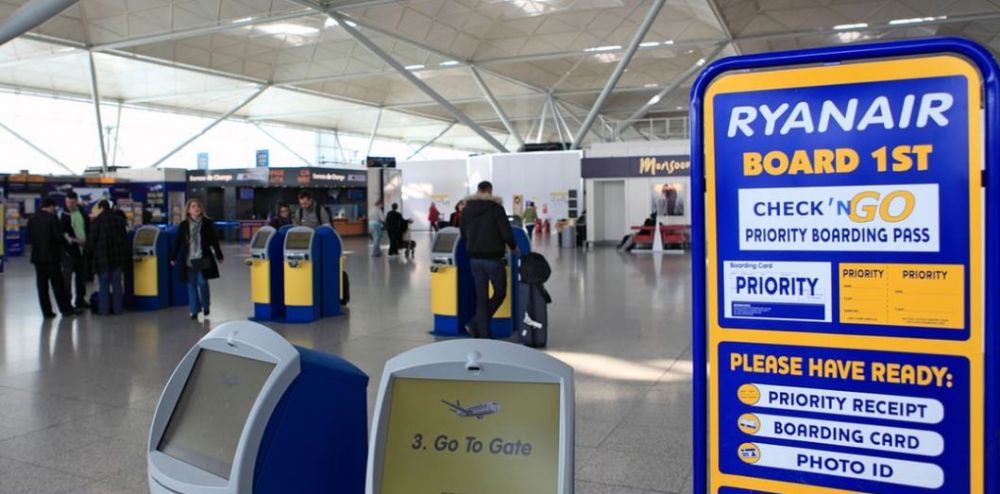 Food & Drinks
Ryanair offers no complimentary drinks or sandwiches. However, passengers can buy food and drinks onboard. They are also welcome to bring their own food, but hot drinks cannot be carried due to security concerns and can be purchased from the inflight menu. Passengers are not permitted to bring their own alcohol onboard, but can buy alcoholic beverages from the inflight menu.
A variety of snacks, choices of hot or cold beverages, a full range of wines, beers and spirits are all available to buy from airline's onboard bar and detailed in the inflight magazine.
A meal option for pre-7:00 a.m. flights from Dublin is an early Irish breakfast including tomato, white pudding, sausages, bacon, brown bread, butter, orange juice and Lavazza coffee for €10.