Aircraft tracking system, FlightRadar24, was founded in 2007 by a Swedish company, Travel Network, as a system for real time plane tracking. The data obtained by the system is displayed on interactive map and make it possible to monitor the aircraft all over the world.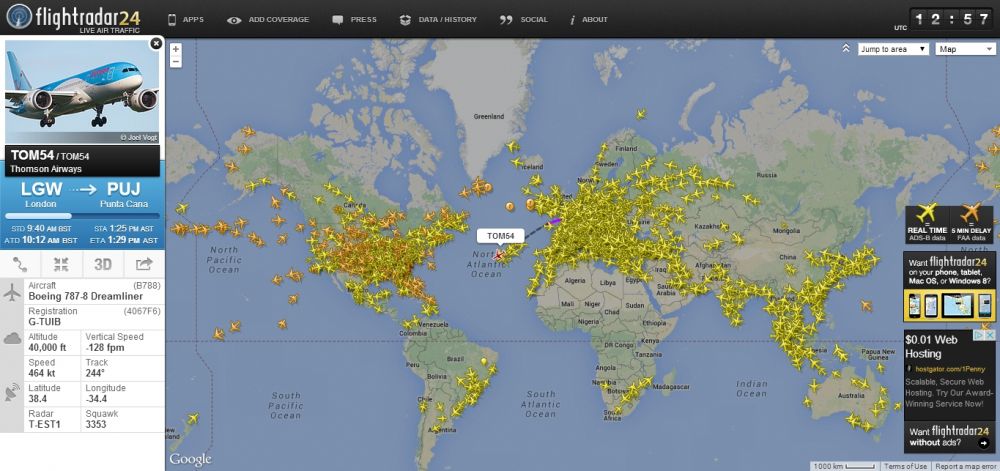 While scrolling the web version of FlightRadar24, you can see a really busy sky, and as you zoom in, you can start to pick out the aircraft routes and the roads in the sky that airliners follow. You will get a pop-up box when you select any particular aircraft on the map with a wealth of flight information, including:
aircraft type along with its photo
registration number
the place of departure and landing
current plane's altitude and speed
geographical position displayed in degrees
FlightRadar24 real time plane tracking map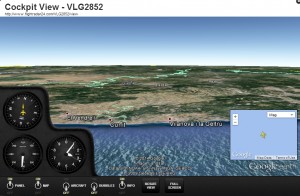 FlightRadar24 cockpit view of the pilot's cabinA very interesting feature named "Cockpit View" allows you to get in the plane's cockpit by clicking a "3D" button, located below of the image. You just need to have either Google Earth installed on your PC or Google Earth plug-in for your browser (both accessible through the FlightRadar24 website).
The view of the cockpit recreates the view of the pilots along with gauges for airspeed, altitude, direction and shows a two-dimensional view of the aircraft moving across the map. There are even some features that allow you to turn on and off a miniature map showing the current position of the plane, rotate the viewing angle around it and even switch to an exterior view showing a 3D model of the plane over the map. This function is quite similar to flight simulators, however, it is much more exciting to see the pilot's view from a plane that is actually in flight.
Another great feature of this sophisticated plane traffic system is the set of built-in themes that make the user experience all the more enjoyable.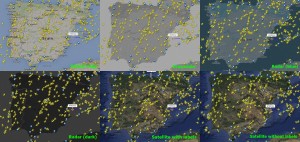 You are able to choose between:
Street map
Satellite imagery
Grayscale map
Radar (blue) map
Radar (dark) map
Due to the large number of aircraft displayed on FlightRadar24 (around 8,000 planes) there is an unpleasant delay in moving or zooming in and out the map. However, there are many filters implemented to facilitate the user activity.

The database of this great flight tracking website is updated every few seconds, with the specified real time plane positions on the map. All flight and aircraft data is stored in the system memory of FlightRadar24 for the past 28 days, giving the chance to track not only the current flights, but those already ended.
Principle of operation of the plane traffic system FlightRadar24
Most of the planes use a general method for acquiring flight information from aircraft, using the defendant Automatic Dependent Surveillance-Broadcast (ADS-B). The ADS-B data allows you to track the movement any cargo or passenger aircraft in any part of the world.
Nowadays, no more than 60% of all planes in the world (less than 30% in the U.S., but more than 70% in Europe) are being equipped with ADS-B transponders, but their number is steadily increasing as it is planned the ADS-B to replace the radar as primary source for aircraft data.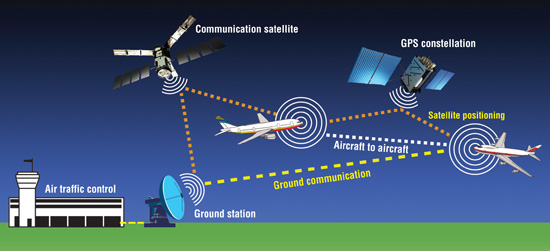 A list with all Aircraft within the ADS-B coverage visible on Flightradar24
Listed below are all the types of aircraft that usually have ADS-B transponder and are displayed by the plane tracking system FlightRadar24 (within ADS-B coverage):
All Airbus models (A300, A310, A318, A319, A320, A321, A330, A340, A350, A380)
Antonov AN-148 and AN-158
ATR 72-600 (most new deliveries)
BAe ATP
BAe Avro RJ70, RJ85, RJ100
Boeing 737, 747, 757, 767, 777, 787
Bombardier CS100 and CS300
Embraer E190 (most new deliveries)
Fokker 70 and 100
McDonnell Douglas MD-10, MD-11
Sukhoi SuperJet 100
Some newer Ilyushin and Tupolev (for example Il-96 and TU-204)
Listed below are all the types of aircraft that usually do not have ADS-B transponder and are not displayed by the aircraft tracking system FlightRadar24:
"Air Force One"
Antonov AN-124 and AN-225
ATR 42, 72 (except most new deliveries of ATR 72-600)
Boeing 707, 717, 727, 737-200, 747-100, 747-200, 747SP
BAe Jetstream 31 and 32
All Bombardier CRJ models
All Bombardier Dash models
All CASA models
All Dornier models
All Embraer models (except most new deliveries of Embraer E190)
De Havilland Canada DHC-6 Twin Otter
Fokker 50
McDonnell Douglas DC-9, MD-8x, MD-90
Saab 340 and 2000
Most helicopters
Most older aircraft
Most business jets
Most military aircraft
Most propeller aircraft
And like any other rule, this also has number of exceptions. There are some older (A300, A310, A320, B737, B747, B757, B767, MD10, MD11) planes without ADS-B transponder that makes them invisible on the aircraft tracking system, FlightRadar24. But there are also various airline companies or private jets like Cessna, Saab 2000, Saab 340, Twin Otters and MD-80 not equipped with ADS-B transmitters aboard, visible on FlightRadar24, when in areas with ADS-B coverage only.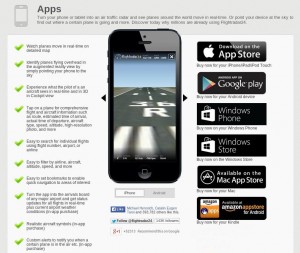 Along with the web version, for even greater convenience to the user, the flight tracking & plane traffic system FlightRadar24 is available for:
iOS
Android
Windows Phone
Windows 8
Mac
Amazon (Kindle Edition)
There is also a desktop application of FlightRadar24 for Macs, although the 3D view is only available on the web. Mobile applications of the aircraft tracking system include an augmented reality feature that allows you to point your mobile device's camera at a plane in the sky and to directly get flight information about it.
Verdict
FlightRadar24 is a really good real time flight tracking & aircraft tracking system with extensive coverage and great features.