China Southern Airlines offers Western-style and Chinese food in flight, plus specially ordered food that passengers can reserve 24 hours prior to departure. Special meals can be ordered for kids and those with allergies. China Southern Airlines food and drinks served onboard are free of charge.
China Southern Airlines meals and options vary depending on the class of travel. Traditional Chinese tea service is offered in first and business class, as well as a variety of options for economy class travelers.
China Southern Airlines Food & Drinks in First/Business Class
Passengers on flights depating from London enjoy British afternoon tea service offered on select flights. European style of cuisine is also offered. Traditional Chinese tea service is available onboard other flights. The Air Tea service for First/Business class passengers is conducted by accredited flight attendants who show the traditional tea culture to guests. Customers in First/Business class are able to pre-order from a variety of dishes, including the popular Beef Noodle soup available from Guangzhou only.
China Southern Airlines provides free meal booking service for its First/Business class passengers on domestic and international flights with China Southern as the actual carrier. For flights from China, passengers can book their meal 24 hours prior to flight departure time, while for flights departing from other countries, 48 hours in advance. Each passenger can book one meal only on each flight.
CSA Noodles is an original signature product with well-brewed beef bone broth, choice Inner Mongolia beef brisket and tendon, chewy handmade noodles, parsley mince, fried peanuts, and pepper rings.
Potted Rice with Dried Meat is a Lingnan featured product with fragrant rice topped with richly flavored meat.
Rice Noodles in Clear Soup is also a Lingnan featured product with fine rice noodles, creamy and smooth. Three types of rice noodles are offered, namely Rice Noodles with Beef Tendon & Marinated Egg, Rice Noodles with Beef Tendon & Brisket, Chaozhou Rice Noodles with Fish Balls.
China Southern Air Cellar
In China Southern "Air Cellar", the company collected good wine from popular wineries in France, Australia, Chile, the United States, and other countries, plus world-renowned brands of whiskey, brandy and liqueurs. Certified wine sommeliers are at guests' service, so that passengers can experience authentic wine culture in an elegant environment.
Quality wines, along with professional sommelier service of attendants, aim at creating respect and high quality onboard the First and Business class cabins. The sommeliers carefully select from more than 100 kinds of French wine, of which around 30 kinds from popular French production areas with grade higher than AOC, which give passengers exquisite enjoyment. The sommeliers, who accepted the training of French wine professional identification organizations and own professional qualification certificates of sommeliers that are recognized by French Government, help passengers enjoy the specialized wine culture.
China Southern Air Tea House
The century old teahouse offers high-end tea and specially trained staff that bring the very best out in each other. Guests can taste the very essence of the most fragrant teas during the journey.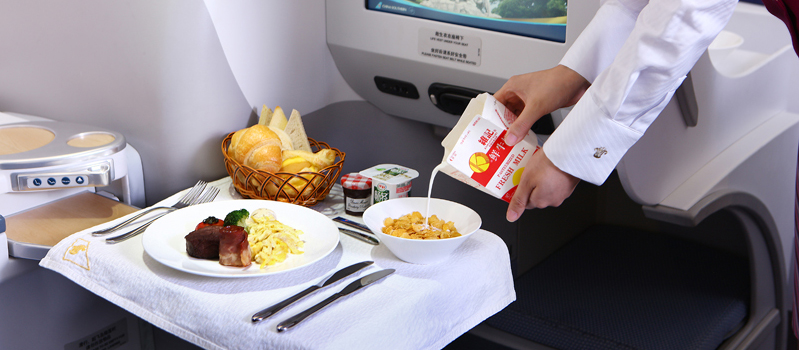 Economy Class Food & Drinks
China Southern Airlines offer tasty meals with choice ingredients. The airline combines the dietary preferences and nutritional needs of the passengers to provide them with featured meals unique to CSA and Guangzhou.
Featured Food in Premium Economy class includes Salt Baked Chicken Rice with Ginger Sauce and Green Onion, Fried Beef Rice, Hainan Chicken Rice, Fried Pork Rice with Potherb mustard.
Guangzhou-Auckland: Flight time for Guangzhou-Auckland route is around 13.5 hours. CSA (China Southern Airlines) has invited New Zealand's star chef, Mr. Al Brown, to design meals for the route. The menu for airline's Auckland route is rich in flavors of Auckland, including beef, lamb, seafood and local dairy products, that are popular in New Zealand. The food elements are fully reflected in meal's design. Additionally, in consideration of Asian dining, some elements of Asian cuisine are also fused into the meals. The examples include spiced ginger-flavored duck leg with pineapple jam and creamed sweet potatoes, as well as anise ginger-flavored brisket and mashed sweet potatoes, using oriental spices.
Guangzhou-London: Flight time for Guangzhou-London route is around 12.5 hours. "2.5 meals" are provided by China Southern Airlines, including a brunch, dinner and Chinese refreshment between. The brunch has breakfast elements - its main course is usually hot food for lunch, including Chinese and western dishes, such as sea food, steak, afternoon refreshment plus silver pout in lotus leaf. For breakfast's main course, chefs prepare western-style cold breakfast that is a combination of sliced bacon, ham and cheese, with royal British afternoon tea.
Authentic British food like Irish Lamb Chop and Scotland Filet Mignon are highly recommended by airline's chefs. What distinguishes Scotland Filet Mignon is that Scottish free-range beef goes with Chinese sesame paste, fresh asparagus and truffle potatoes. The ingredients for Irish Lamb Chop include tender local lamb with Italian johnnycake and classic French stewed mixed vegetables (dietary trend in Europe). Royal continental refreshment with reference to royal British afternoon tea is a good choice for first and business class passengers.
China Southern Airlines Special Meals
China Southern Airlines is committed to keeping their passengers provided with special meals for medical reason or religion faith. Passengers only have to dial the customer service hotline and submit their special meals requirement against flight food at least 24 hours before departure.
Kosher Meal is available only for the flights that are international long-distance (more than 7 hours flying time), with departure from Guangzhou to Melbourne, Sydney, Perth, Auckland, Brisbane, London, Paris, Amsterdam, Vancouver, Los Angeles, Moscow, Dubai. Kosher Meal order has to be made at least 48 hours before the scheduled flight.
Special Meal reservation is available for dinner, light meal and snack only. Each passenger can apply for one special meal only on their scheduled China Southern Airlines flight.