Norwegian Air Shuttle ASA, trading as Norwegian, is a popular Norwegian low-cost airline. Norwegian Air Shuttle is Europe's 3rd largest low-cost carrier, as well as the largest airline in Scandinavia, and the 8th-largest in Europe in terms of passenger numbers. The carrier is known for its livery of white with a red nose, and for the portraits of distinguished Scandinavians on its aircraft tail fins.
Norwegian Air Shuttle offers high-frequency domestic flight schedule in Finland and Scandinavia, as well as to business destinations like London, and holiday destinations in the Canary Islands and Mediterranean, transporting more than 30 million people per year (2016 data). Norwegian Air Shuttle operates 500 routes to a total of 150 destinations in 35 different countries on 4 continents. The busiest routes in carrier's network are Oslo to Bergen and Oslo to Trondheim with 15 daily round-trips. The largest non-Scandinavian operation of Norwegian is to London Gatwick via up to 24 daily roundtrips.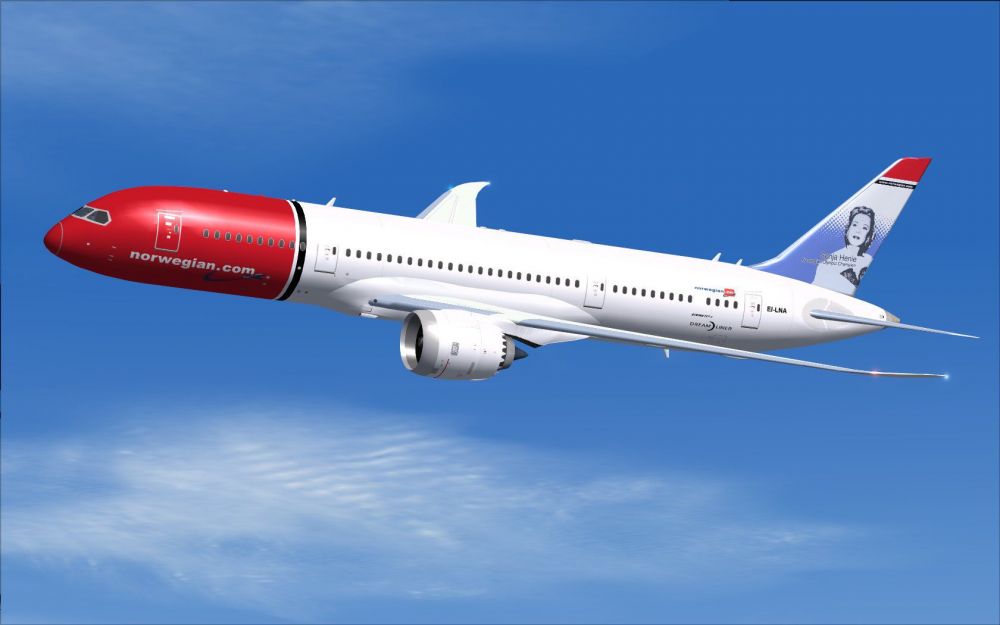 Norwegian Air Shuttle launched long-haul operation in May 2013. Company's long-haul flights are operated by Norwegian-owned subsidiaries, including Ireland-based Norwegian Air International, Norway-based Norwegian Long Haul, United Kingdom-based Norwegian Air UK, Argentina-based Norwegian Air Argentina. Each of the airlines, except Norwegian Long Haul, holds unique AOC (air operator's certificate) but shares commercial functions and branding with the rest of the Group.
As a low-cost airline, Norwegian operates aircraft featuring all-economy class seating (except on Boeing 787 which has 2 cabins, Economy and Premium). Surcharges are taken for check-in baggage, onboard food and drinks, payment via credit card and other services.
Norwegian Air Shuttle runs a frequent flyer program named Norwegian Reward. Passengers earn points based on the ticket's price and class (2% on LowFare tickets, 20% on Flex tickets). Norwegian Air Shuttle supported the ban on point accrual which was in force on airline's domestic flights until May 16, 2013. However, when that ban was lifted, reward programs were also extended to that market.