LATAM Airlines (former LAN Airlines S.A.) is a Chilean airline based in Santiago, and one of the founding members of LATAM Airlines Group, the largest airline holding company in Latin America. The main hub of LATAM Chile is Comodoro Arturo Merino Benítez International Airport. Carrier's secondary hubs are located in El Dorado (Bogota), Jose Joaquin de Olmedo (Guayaquil), Jorge Newbery (Buenos Aires) and Jorge Chavez (Lima) airports.
LAN Airlines was Chile's flag carrier until the privatization during the 1990s. It is also the predominant airline in Peru and Chile, and the 2nd largest carrier in Argentina, Ecuador and Colombia via its local subsidiaries. LATAM Airlines is one of the largest carriers in Latin America, serving the Caribbean, Oceania, Europe, North America and Latin America. It has been a member of Oneworld airline alliance since 2000.
After the buyout by LAN of Brazilian TAM Airlines, completed on June 22, 2012, LATAM Airlines Group was established. In August 2015, it was unveiled that the two airlines would rebrand as LATAM, with one livery applied on all airplanes by 2018. Currently, TAM and LAN continue working as separate companies, under common executive management. Today, LATAM Airlines Group is the largest Latin American airline conglomerate.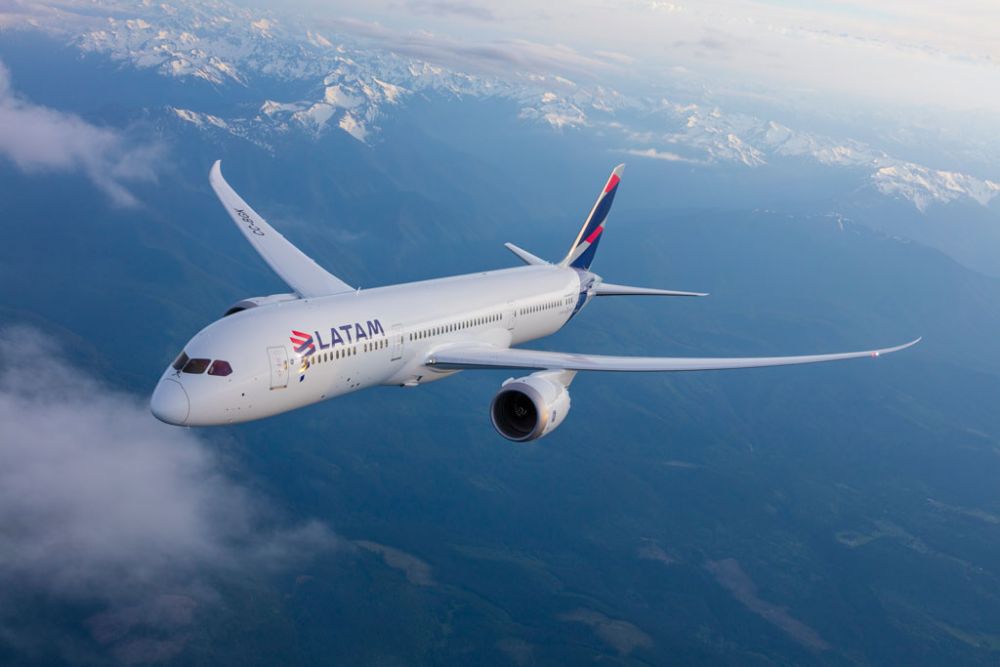 LATAM Airlines operates 4 marketed, 5 seasonal, 17 domestic (Chile) and 31 international destinations in 21 different countries. When the carrier took delivery of Boeing 787 Dreamliner it started flights to London-Heathrow and Washington D.C. It is also operating flights to Atlanta, Barcelona, Dallas-Fort Worth, Hong Kong, Houston, Milan, Shanghai, Tokyo and Zurich.
After the delivery of more Airbus A319s and Airbus A320s, as well as new deliveries of Airbus A321, LATAM Airlines started new destinations in South America, considering Asuncion, Curitiba, Cuzco, Manaus, Panama, Rosario, San Jose de Costa Rica and others. LATAM was a popular choice for surfers flying to South America due to the policy of not charging extra baggage fees. However, starting December 19, 2016 the carrier changed its policy and is now charging US$200 per way for surfboard bag of up to 3 boards.
On October 5, 2017 LATAM Airlines inaugurated the direct route between Santiago-Melbourne, a 11300 km, 15-hour westbound flight, which is currently the southernmost commercial point-to-point flight. The great circle of the flight passes south of Antarctic Circle, at a distance of approximately 800 km off Antarctic mainland. The flight numbers are LA806 (eastbound) and LA805 (westbound).