Jetstar Airways Pty Ltd, which is trading as Jetstar, is a "value based" low-cost Australian airline headquartered in Melbourne. Jetstar is a wholly owned subsidiary of Qantas, that was created in response to the threat by low-cost Virgin Blue airline. Jetstar is part of the 2-brand strategy of Qantas of having Jetstar for the low-cost market and Qantas Airways for premium full-service market. Jetstar carries around 8.5% of all passengers flying in and out of Australia.
Jetstar Airways operates an extensive domestic network along with regional and international services from its major base at Melbourne Airport, via a mixed fleet of Airbus A320 and Boeing 787 Dreamliner. Just like its Qantas parent, it competes with Virgin Australia and its low-cost subsidiary Tigerair Australia.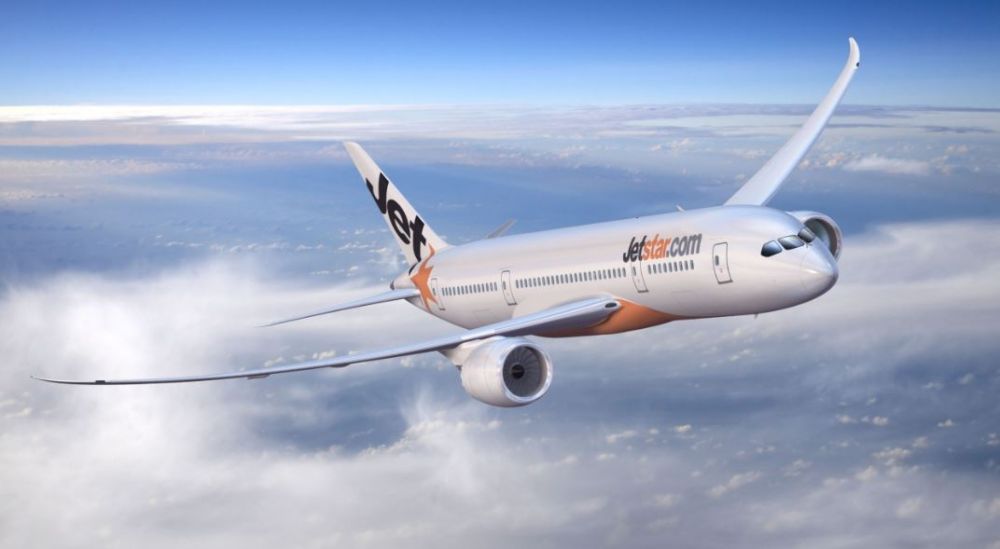 On all international routes onboard Boeing 787, Jetstar offers a 2-class service. On all domestic routes the carrier has a "buy onboard" single class service with food and drinks for purchase. Business Class is offered on Jetstar's B787-8 aircraft. Its Business Class cabin features 21 leather premium class seats in 2-3-2 configuration, that are similar to Qantas international premium economy class or Qantas domestic Business Class. The service is inclusive of all beverages, meals, in-flight entertainment, and includes baggage allowance of 30 kg. Jetstar Business Max fares include Qantas Club lounge access and earn Qantas Frequent Flyer points.
In November 2011 the airline became the first to offer passengers iPads as in-flight entertainment devices. These units, pre-loaded with games, magazines and movies, are provided on flights more than 2 hours duration and are also available for a fee in Jetstar Economy Class but are complimentary in carrier's international Business Class cabin. Jetstar Boeing 787 aircraft feature 10-inch seat-back on-demand entertainment screens in its Business class and 9-inch in Economy class.