EasyJet Classes
EasyJet aircraft cabins feature single class, high density layout. Carrier's main fleet, which comprises Airbus A319 and A320 aircraft, can carry up to 156 and 186 passengers, depending on layout. The typical Airbus A319 can accommodate approx 140 passengers in single class configuration. As EasyJet does not serve meals on shorter flights, the airline opted for small galleys and had the lavatory installed in a space that was not in use at the rear of the airplane. The space saved by smaller galleys made possible the installation of a total of 156 seats. Due to the seating arrangement, in order to satisfy safety requirements EasyJet's Airbus A319 aircraft feature 2 pairs of overwing exits, instead of one-pair configuration which is the standard on most Airbus A319.
Onboard sales are a major part of the ancillary revenue of the airline. Gifts like gadgets, cosmetics, fragrances and easyJet-branded gifts are sold onboard, as well as train tickets or tickets for airport transfer services. The monthly inflight magazine of the airline is called The Traveller.
EasyJet had previously offered IFE (in-flight entertainment) in some aircraft (ex fleet of GB Airways), using drop-down screens on Airbus aircraft. In-flight entertainment has now been discontinued. EasyJet offers headphones for purchase, as well as eyeshades and travel pillows, subject to stock.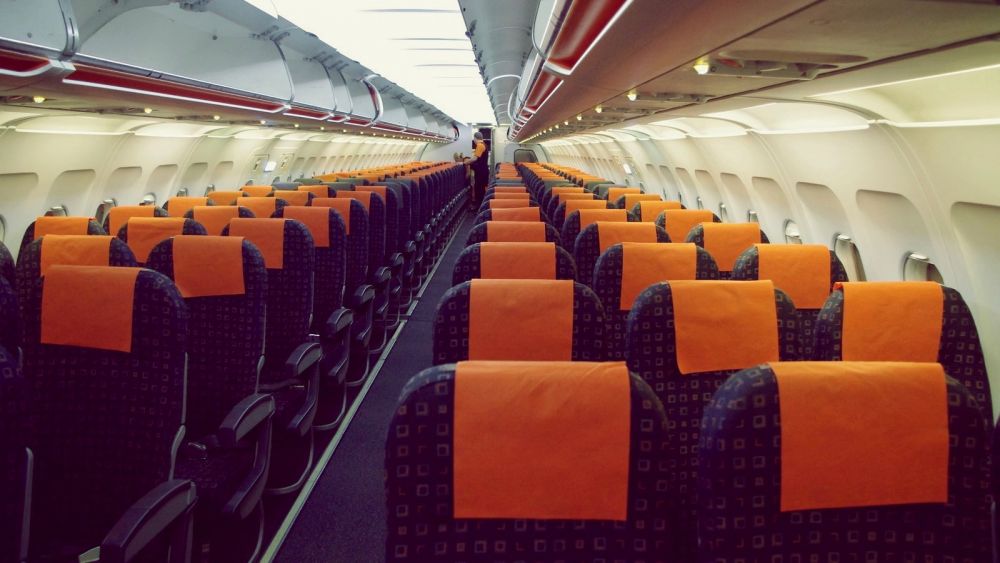 Ba
ggage
All EasyJet clients can take one cabin bag onboard. There is no weight limit but the carrier asks that passengers are able to lift it by themselves into the overhead locker. If someone's bags are bigger than the maximum allowed by the airline, they can't go in the cabin and EasyJet will have to check them into the plane's hold for a charge.
Cabin bags have to be placed in the plane's overhead lockers (in case small enough under the seat in front). Their maximum size has to be 56 cm x 45 cm x 25 cm, including wheels and handles. If the lockers are already full, and traveller's bag is the correct size, the easyJet staff will put it into the plane's hold for free.
EasyJet Plus cardholders, Up Front, Extra Legroom, FLEXI fare customers or those travelling with an infant (under 2) can bring a smaller bag, like a handbag or laptop bag that they store under the seat in front. The additional under seat bag has to be with a maximum size of 45 cm x 36 cm x 20 cm.
Passengers are also allowed to bring some additional items into the cabin, such as an overcoat, umbrella, walking stick, crutches, as well as a standard shopping bag full of duty free goods purchased at the airport.
Boarding
Initially EasyJet booking was only by telephone, with all of the aircraft painted with the carrier's booking telephone number. Travel agents do not book flights on the airline as it doesn't pay commissions, which is a standard practice for low cost carriers.
In December 1997, a design and advertising agency of EasyJet suggested to Stelios Haji-Ioannou to consider trialling a direct bookings' website. His reply was "The Internet is for nerds, it will never make money for my business!". However, other EasyJet executives saw the potential and approved website trial involving a different telephone reservations number for the website, just to track success. After Haji-Ioannou saw the great results he changed his mind. An e-commerce website for real-time online booking started in April 1998. It was the first such website for a European low cost carrier.
In December 2001, EasyJet switched from a 3rd-party reservation system to in-house system. Internet bookings were cheaper than booking by telephone, reflecting the reduced call centre costs. The aircraft were all repainted with the web address and within a year more than 50% of bookings were made via the website. In April 2004 the figure had jumped to about 98%.
Passengers need to have some form of identification onboard both domestic and international flights. On all domestic flights a photographic ID is required. International flights' customers must bring a valid passport and, when required, a valid visa. European Economic Area, European Union and Switzerland citizens may travel within Europe via a valid EEA/EU/Swiss National Identity Card or Passport Card.
Passenger's boarding gate is displayed on the airport's departure board or is sent direct to the customer's phone if carrier's mobile app has been downloaded. Gates close promptly 30 min before the departure. At the gate EasyJet use a queuing system to board passengers. 3 boarding groups are available: easyJet Plus Speedy Boarding clients, Families with kids under 5, and clients with reduced mobility and one for all remaining EasyJet customers.
In most airports passengers board using the front/rear steps. Which one to use is marked on the boarding pass.
Food & Drinks
EasyJet does not offer complimentary food or drinks on its flights. The only exception are some occasional charter flights that are operated by the airline. Travellers may buy items onboard from the buy onboard programme called "easyJet Bistro". As EasyJet meals aren't included in the price of the ticket, the carrier offers a large variety of fresh food, healthy inflight snacks, snack boxes and more in its Boutique & Bistro inflight shop. Whilst the range of foods and drinks may vary slightly, depending on where passengers are flying to and from, it generally offers the same products across Europe.
Alcoholic beverages, hot and cold drinks, sweets and snack options (sandwiches, hot dishes, inflight breakfast options) are available onboard easyJet flights.
EasyJet passengers are allowed to bring their own drink and food onboard to consume.