ICAO / IATA
UAL / UA
Country
United States of America
Established
n/a
Fleet size
1186 aircrafts
Average age
15.6 years
United Airlines Inc., also referred to as United, is one of the major United States airlines, headquartered in Chicago, Illinois.
United Airlines is the 3rd-largest airline in the world when measured by revenue, following American Airlines and Delta Air Lines. It operates a large international and domestic route network, and has an extensive presence in Asia-Pacific region. United Airlines is a founding member of the largest airline alliance in the world, Star Alliance. Regional service is operated via independent carriers under the United Express brand. United main competitors include American , Delta and Southwest Airlines.
United Airlines was established in 1926 under the name Varney Air Lines. Later it was popular as United Air Lines (UAL). Prior to the use of the name United Airlines name, Boeing Company operated predecessor airline.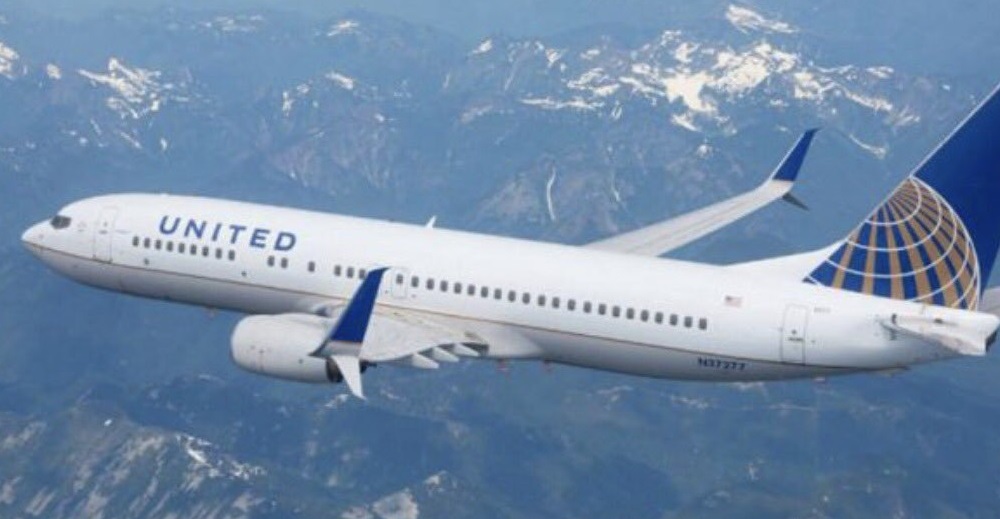 United Airlines Hubs
United Airlines operates out of 9 airline hubs located in Denver, Chicago, Houston, Guam, Los Angeles, San Francisco, Newark, Washington D.C. and Tokyo. The largest hub of United is Chicago-O'Hare, both in terms of travelers carried per year and in terms of departures.
United also operates maintenance bases located in Cleveland and Orlando in addition to maintenance locations located at its hubs. The company employs more than 86,000 people while maintaining headquarters in the former Sears Tower, now Chicago's Willis Tower.
Destinations
United operates to a total of 235 destinations, of which 138 international in 60 countries across Americas, Asia, Oceania and Europe. United Airlines serves a domestic route network out of 7 domestic hubs and is a leading United States carrier between Hawaii and continental U.S. The airline also operates international hubs in Tokyo and Guam. The carrier was among the few airlines to fly to all 6 inhabited continents, along with Air China, Air Canada, Delta Air Lines, British Airways, South African Airways, Qantas, Qatar Airways, Emirates. However, since June 30, 2016, scheduled Africa services have been discontinued.
As of November 2017, United Airlines is the only airline in the United States with service to the cities of Chengdu, Chuuk, Delhi, Geneva, Hamburg, Kosrae, Kwajalein, Majuro, Melbourne, Mumbai, Pohnpei, Sapporo, Sendai, Taipei, Xi'an and Yap.
United Airlines Classes
United Polaris First (United's international 1st class product) is offered on Boeing 747-400s, on select Boeing 767-300ERs & Boeing 777-200ERs. The standard Polaris First suite is 2.0 m (6.5 ft) long and reclines into fully flat bed. The seats are equipped with personal LCD TV with AVOD (Audio-Video-on-Demand), adjustable headrest, US-style 120-volt power outlet, large tray table, iPod adapter, and other amenities. United Airlines launched new turn-down service available on long-haul international flights.
United Polaris Business (offered on wide-body aircraft, except certain domestically configured 777-200s, and on Boeing 757-200s) Travelers check in at separate counters. They can also use priority security screening. In-flight services on international flights include pre-departure drinks, table linens, multi course meals via partnership with Trotter Project and designed by Charlie Trotter-affiliated chefs. Polaris Business passengers are given priority with baggage handling and boarding, as well as access to United Polaris Lounge, United Club plus partner airline lounges when flying on international routes. Polaris Business seats all recline 180 degrees into a flat bed.
United p.s. (Premium Service, sub-brand for transcontinental flights between Los Angeles/San Francisco and Newark; Boston to San Francisco) The premium cabin offers international style catering. All seats feature access to power outlets, inflight wi-fi, and on-demand entertainment. Business class guests also have access to the United Club at Los Angeles, San Francisco and Newark. United p.s. routes do not offer Complimentary Premier upgrades.
United First and United Business (First is available on domestically configured aircraft, and in case such aircraft serve international services like such to Canada, Central America, the Caribbean, the cabin is branded as Business. On narrowbody aircraft United First seats have a 96.5 cm (38 in) pitch, while United First seats on domestic Boeing 777-200 aircraft have fully flat bed seats. Travelers receive priority boarding, pre-departure beverages, separate check-in desks, baggage handling, complimentary meals.
Economy Plus (available on all aircraft). Seats are situated in the front few rows and exit rows of plane's economy cabin and feature 5.1 cm (2 in) more recline and at least 13 to 15 cm (5 to 6 inches) of additional seat pitch which totals 4-7 inches of recline and 35-37 inches of pitch. All MileagePlus Premier members receive complimentary access to Economy Plus. Premier 1K, Platinum & Gold members may select Economy Plus seat when booking, and Silver members can select such at check-in. It can be purchased by other passengers depending upon availability.
Economy (available on all aircraft). A pitch of 31 inches and a recline of 2-5 inches is usually available. Economy seats have an adjustable headrest and offer some form of entertainment which ranges from inflight wi-fi, AVOD, overhead or personal device entertainment. Economy seats on Boeing 787, Boeing 767 and Boeing 777 aircraft feature a personal 18 cm (7 in) touchscreen TV at the back of each seat. Food and snacks are available to buy on Caribbean, domestic, and some Latin America flights, including snacks, snack boxes and fresh meals, depending on distance and flight time. On other international flights meals are complimentary. On North America flights only drinks are complimentary. Alcohol is available to buy on North America flights, but is free on long-haul international flights.
Basic Economy (available on select routes, in addition to standard fares) Tickets are limited to travel from Minneapolis/St. Paul and 7 of United U.S. hubs (Denver, Chicago O'Hare, Houston Bush International, New York/Newark, Los Angeles, San Francisco, Washington Dulles). Basic Economy prices provide most of the same services and amenities with standard Economy Class. Seat selection, upgrades, bringing full-sized carry-on bags, group and family seating are not allowed with Basic Economy.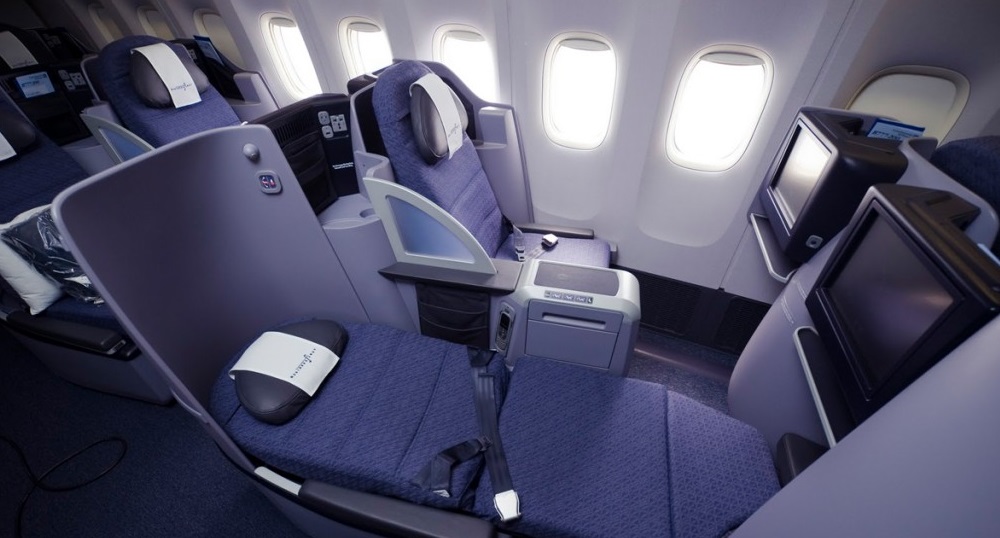 Baggage
In all cabins travelers are allowed one carry-on bag and one personal item. Those who bought a Basic Economy ticket are only allowed one personal item, unless they are a Premier member / primary card member using a MileagePlus credit card. Everyone else traveling on a Basic Economy ticket who brings a full-sized carry-on to the gate will be required to check the bag and pay the applicable fee plus a US$25 gate handling charge. Payment is via credit card only.
Some items can only travel in a carry-on bag, and some must be checked. Travelers have to make sure they know where to pack the restricted items and if they can carry them on.
To prevent inflight danger, a lot of common items are restricted by the TSA (Transportation Security Administration) and FAA (Federal Aviation Administration). Those travelling with objects on FAA Pack Safe Hazmat or TSA prohibited items restrictions lists, they will be confiscated.
Carry-on baggage: one personal item and one bag (the personal item has to fit under the seat in front of the traveler. Dimensions shouldn't exceed 17x10x9 inches/43x25x22 cm). The carry-on should not exceed 22x14x9 in/56x35x22 cm (including wheels and handles), must fit in the airport's sizer. TSA allows some duty-free liquids through security in a carry-on bag in case they are packaged in security tamper-evident bag.
Checked baggage: Service charges apply whenever bags are checked. These are determined by the marketing carrier of the first segment of the itinerary (the airline whose flight number is on the boarding pass for the flight). In case travellers make a voluntary change to the itinerary and the new flight features a different marketing carrier, the new marketing carrier's baggage policies will apply. In case this carrier is not United Airlines or United Express, service charges may be different. Passengers may sign in to their MileagePlus account and determine checked baggage service charges for the existing reservation, or choose the "Any flights" tab and calculate the service charges for any itinerary of United. The airline calculate the size limits of the bag by adding the outside dimensions of each bag, length+ width+height. For all regions, the checked baggage allowance is: 62 in (158 cm). The maximum weight is based on the class of service and the MileagePlus Premier status of the passengers at the time of check-in. Weight (United Economy/Premium Silver): 50 lbs (23 kgs). Weight for First/Business/Premier Gold/Premier Platinum/Premier 1K/Star Alliance Gold Class is 70 lbs (32 kgs).
Boarding
Check the latest travel alerts before your flight and get flight status info for gates and times. Download United app at united.com to get access to all info you need before, during and after the flight.
Learn about checkpoint security screening process and policies. Visit the website of Transportation Security Administration's (TSA) for travel info including accepted forms of I.D., modified screening, clearing checkpoints, and more.
Check in online beginning 24 h and up to 45 min before the flight (90 min for international). Review the special minimum required times on the site of the airline to plan your flight accordingly and check in within the required number of minutes prior to departure time.
When arriving in the United States from an international location, travelers have to claim their checked bags at the 1st stop within U.S. and proceed through Immigrations/Customs.
When flying internationally and connecting to a different airline, travelers have to check the applicable Customs procedures to determine if checked baggage has to be re-checked upon arrival into the country.
Get your mobile boarding pass via checking in on mobile.united.com. Once you get the boarding pass, scan the barcode at airport security checkpoints and at the gate when boarding for United Airlines flights. United is the first major U.S. carrier to offer mobile boarding pass scanning at all United States airports they serve, including those in the U.S. Virgin Islands and Puerto Rico.
Food & Drinks
United Economy dining offers various options based on the location and length of the flight. Selections range from complimentary multi-course meals to Choice Menu snacks available to buy. Complimentary snacks or meals are offered on flights between the U.S. and Ecuador, Colombia, Peru, Venezuela, and intrapacific flights including Micronesia. A 3-course meal service is offered for most flights between the United States and Africa, Australia, Argentina, Brazil, Chile, Europe, India, Israel, China, Japan, Korea, Taiwan and the Middle East. On long-haul flights more than 12 hours and flights between LA or San Francisco and Europe the airline offer a mid-flight snack, including a sandwich and candy.
Passengers seated in United Polaris first class enjoy a 6-course meal. Menus include appetizers, salad, soup, a choice of entree, cheese course and selection of desserts. Passengers seated in United Polaris business class enjoy a 5-course meal. Menus include a salad, chilled appetizer, choice of entree, cheese course and selection of desserts.
The following complimentary beverages are offered on most flights: Diet Coke, Coca-Cola Zero Sugar, Coca-Cola, Sprite Zero, Sprite, illy Dark Roast coffee (regular and decaffeinated), DASANI Bottled Water, Hot Tea, DASANI Lime Sparkling Water, Mott's Tomato Juice, Minute Maid (apple juice, orange juice, cranberry apple juice cocktail), Mr & Mrs T Bloody Mary Mix, Seagram's (Ginger Ale, Tonic Water, Seltzer Water).
Alcoholic beverages vary by cabin and flight. Alcoholic drinks are free in premium cabins on all flights as well as in Economy Plus cabins on premium transcontinental flights. In international premium cabins, flight attendants inform guests of the available champagne and wine selections from United Airlines international premium cabin wine list. Travelers must be 21/older to consume alcohol.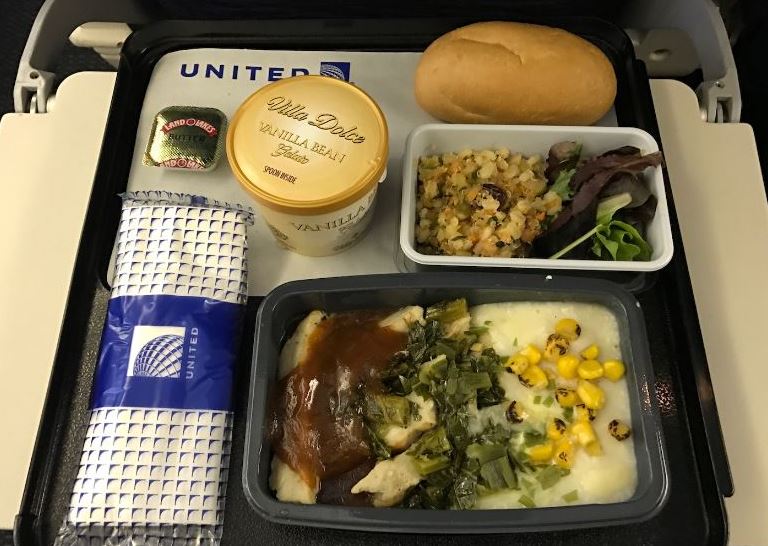 Beer (US$7.99) Miller Lite, Heineken, Samuel Adams Octoberfest, Blue Point Brewing Company Toasted Lager, New Belgium Voodoo Ranger IPA. Beer is complimentary in United Economy cabins on transatlantic flights; flights between the U.S. and Argentina, Chile, Colombia, Brazil, Ecuador, Venezuela and Peru; trans-Pacific flights between the U.S. and China, Japan, Korea, Taiwan and Australia; and flights between Hong Kong and Singapore.
Specialty cocktails (US$9.99) are available between continental U.S. and Hawaii, and include Trader Vic's Mai Tai and Crafthouse Cocktails Moscow Mule.
House red & white wines (US$7.99/187ml) are available to buy on premium transcontinental, mainline United Airlines flights within North America, such as Hawaii and Caribbean, and flights between the United States and Central America, and include Reliz Creek Pinot Noir 2011, Arroyo Seco; Hess Select Chardonnay 2013, Monterey, CA.
Spirits (US$7.99) Bacardi Superior Rum, Dewar's "White Label" Blended Scotch Whisky, Canadian Club Whisky, Tito's Handmade Vodka, Jim Beam Devil's Cut Bourbon Whiskey, Jack Daniel's Tennessee Whiskey.
Premium Spirits & Liqueurs (US$8.99) include the following (available on most flights): Crown Royal Canadian Whisky, Courvoisier VSOP Fine Champagne Cognac, Bombay Sapphire Dry Gin, Baileys Irish Cream, Glenfarclas Single Malt Scotch Whisky, Buffalo Trace Kentucky Straight Bourbon Whiskey.
| Tail | Manufacturer | Model | Year of Built | Age | Delivery |
| --- | --- | --- | --- | --- | --- |
| N2243U | Boeing | 777-300ER | 2017 | 1 year | - |
| N2737U | Boeing | 777-300ER | 2017 | 1 year | - |
| N2135U | Boeing | 777-300ER | 2017 | 1 year | - |
| N2140U | Boeing | 777-300ER | 2017 | 1 year | - |
| N59034 | Boeing | 777-300ER | 2017 | 1 year | - |
| N26970 | Boeing | 787-9 Dreamliner | 2017 | 1 year | - |
| N2136U | Boeing | 777-300ER | 2017 | 1 year | - |
| N2639U | Boeing | 777-300ER | 2017 | 1 year | - |
| N2142U | Boeing | 777-300ER | 2017 | 1 year | - |
| N2333U | Boeing | 777-300ER | 2017 | 1 year | - |
| N15969 | Boeing | 787-9 Dreamliner | 2017 | 1 year | - |
| N26966 | Boeing | 787-9 Dreamliner | 2016 | 2 years | - |
| N26967 | Boeing | 787-9 Dreamliner | 2016 | 2 years | - |
| N2332U | Boeing | 777-300ER | 2016 | 2 years | - |
| N27965 | Boeing | 787-9 Dreamliner | 2016 | 2 years | - |
| N17963 | Boeing | 787-9 Dreamliner | 2016 | 2 years | - |
| N27964 | Boeing | 787-9 Dreamliner | 2016 | 2 years | - |
| N29968 | Boeing | 787-9 Dreamliner | 2016 | 2 years | - |
| N2331U | Boeing | 777-300ER | 2016 | 2 years | - |
| N61898 | Boeing | 737-900 | 2016 | 2 years | - |
Showing 1-20 of 1,186 items.