ICAO / IATA
SWA / WN
Country
United States of America
Established
1971
Website
http://www.southwest.com
Fleet size
806 aircrafts
Average age
13.5 years
Southwest Airlines Co. is a major United States airline and the largest low-cost carrier in the world headquartered in Dallas, Texas on the grounds of Dallas Love Field.
The airline was founded in 1967 as Air Southwest by Herb Kelleher. In 1971 it adopted its current name after beginning operations as an intrastate airline within the state of Texas. Currently, Southwest Airlines has more than 55,000 employees and operates over 4,000 departures per day during peak travel season. The airline has scheduled services to nearly one hundred destinations in the U.S. and 8 additional countries.
Southwest Airlines has operated only Boeing 737 jetliner, except for the period 1979-1987 when it leased a number of Boeing 727-200s from Braniff International Airways. Southwest has been the largest operator of Boeing 737 worldwide since January 2016, with more than 700 in service, each averaging 6 flights a day.
The airline has employed humor in advertising. Its slogans include "Just Plane Smart," "Love Is Still Our Field," "The Somebody Else Up There Who Loves You," "THE Low Fare Airline," "You're Now Free To Move About The Country," "Welcome Aboard," "Grab your bag, It's On!." The current slogan of Southwest Airlines is "Low fares. Nothing to hide."
Southwest Airlines is popular for colorful boarding announcements as well as crews bursting out in song, which is appreciated by passengers.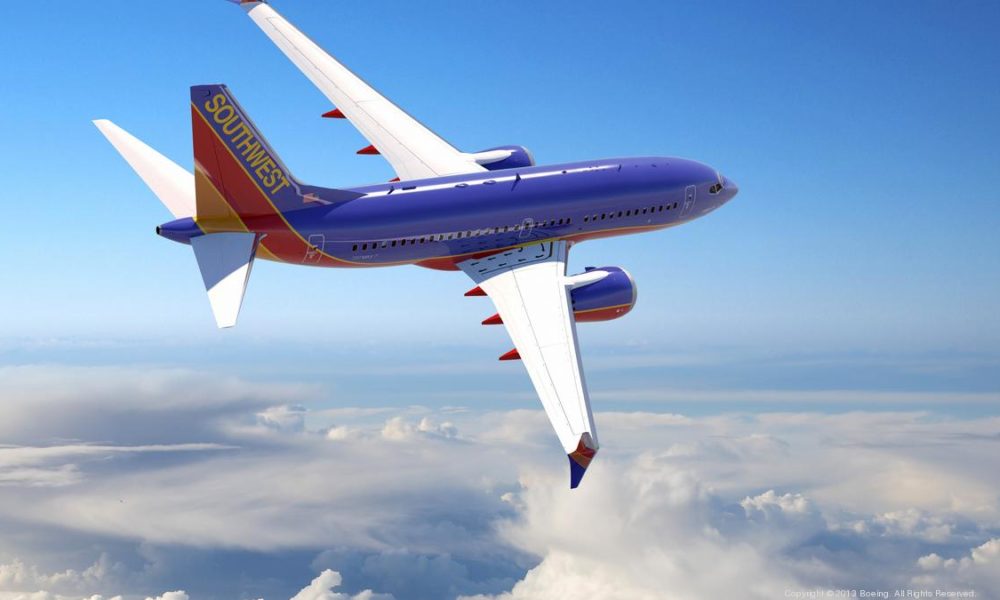 Southwest Airlines Hubs & Destinations
Southwest has scheduled flights to more than 100 destinations in more than 40 states, Central America, Mexico, Puerto Rico, the Caribbean. The airline operates crew bases at the airports: Houston–Hobby, Chicago–Midway, Dallas–Love, Atlanta, Baltimore, Denver, Las Vegas, Phoenix–Sky Harbor, Oakland, Orlando. Southwest Airlines does not use the system "hub and spoke" of other major airlines, and prefers the system "point-to-point", combined with the "rolling hub" model in larger cities.
Southwest Airlines Classes
Southwest Airlines first class does not exist. There are various ticket classes passengers can choose from, but remember that Southwest-operated flights feature open seating. Once onboard, passengers have to choose any available seat.
The lowest fares include Wanna Get Away (not refundable) plus promotional fares. Business Select rates are the most expensive. However, Business Select seats measure the same 17" across as economy ones and could never be taken for first-class seats. But Business Select benefits provide guaranteed early boarding, access to faster security lines, extra Rapid Rewards point and a free drink. And the fare is only usually US$22 more than the refundable Anytime fare. Business Select passengers are among the first on the plane with positions of A1-A15, and get the most rapid rewards points available for the flight plus free drink coupons. However, they still board after pre-boarders, and some flights have passengers from previous stops as well.
The not refundable Wanna Get Away fares allow funds to be deposited and reused. One of the biggest differences, though, is the amount of earned points. The more costly Anytime fare has a multiplier of 10 instead of 6, which means not only are passengers going to get more points due to the higher fare, but they are also going to get more because of the multiplier.
Onboard entertainment consists of a live TV feed. Wi-fi is available on select flights for a fee.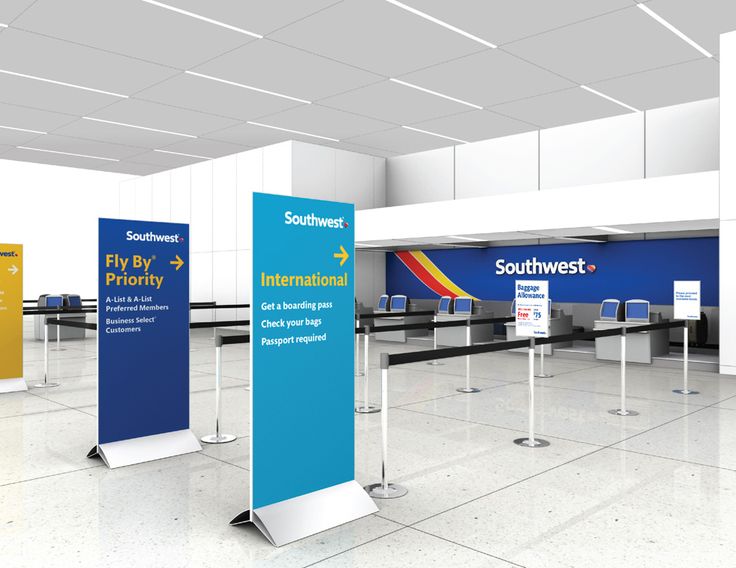 Baggage
As the only domestic carrier in the United States allowing 2 free checked bags per passenger, Southwest Airlines boasts with its "Bags Fly Free" program, and no traveler has to deal with nuisance of additional baggage fees because those costs have been factored into the fare. With a Southwest Airlines ticket, passengers get to bring one personal item (small backpack, laptop, camera case), a carry-on bag, and 2 checked bags for free.
Carry-on baggage: Southwest Airlines' carry-on allowance includes one cabin bag, which mustn't exceed 10x16x24 in (25x41x61 cm), plus a smaller personal item with dimensions no bigger than 18.5x8.5x13.5 in (46x21x34 cm). Certain extra items are allowed to carry in addition to this allowance, such as a kid restraint device for a kid travelling on their own ticket.
Checked baggage: Southwest Airlines' checked baggage allowance is 2 items of luggage, free of charge, each weighing no more than 22.7 kg (50 lbs) and measuring no more than 62 in (157.5 cm). Those who wish to check a 3rd bag must pay a charge of US$75.
Overweight items that weigh between 23-45 kg (51-100 lbs), and oversized items that measure more than 62 in (157.5 cm), but not more than 80 in (203 cm), are charged at US$75 per item.
Boarding
When you buy a ticket on Southwest Airlines, you won't be given an option of choosing a seat. Actually, no one onboard the airplane will have seating assignment printed on the ticket. The Southwest Airlines boarding process is unique. Passengers are given a boarding number when they check in to the flight (24 h in advance). Those who check in right at the 24h mark receive better boarding numbers.
Passengers who choose the Southwest EarlyBird check-in option will have their boarding numbers reserved in advance (36 h in advance of departure time), and will be able to access the boarding pass 24 h in advance. The EarlyBird option is US$15 per person. However, it doesn't guarantee A boarding group.
To get boarding number A 1-15, clients have the option to upgrade on the day of flight. The cost for it varies depending on the availability for the flight. Boarding group A 1-15 may also be received via a Business Select ticket.
Preboarding is available for passengers who have seating needs to accommodate a disability, need assistance in boarding, need to stow assistive device. Those guests receive a preboarding document in addition to the boarding pass.
On Southwest Airlines passengers are broken up into 3 groups - A, B, and C. Each passenger is given a number in the range, typically between 1-60. The airplane is boarded in order of priority (A1 boards first, C60 boards last). So while other airlines feature zones, Southwest Airlines has an exact order in which passengers board, standing in groups of 5. The monitors change when the next group has to board.
Food & Drinks
Southwest Airlines does not sell food onboard but serves complimentary coffee, cold drinks and juices on all flights. Alcoholic beverages are available to purchase at a flat rate of US$5 per beverage. Rapid Rewards members receive drinks vouchers together with their tickets. Free alcohol is offered on popular holidays like Valentine's Day, Mardi Gras, and New Year's Day, provided the passenger is at least 21-year-old.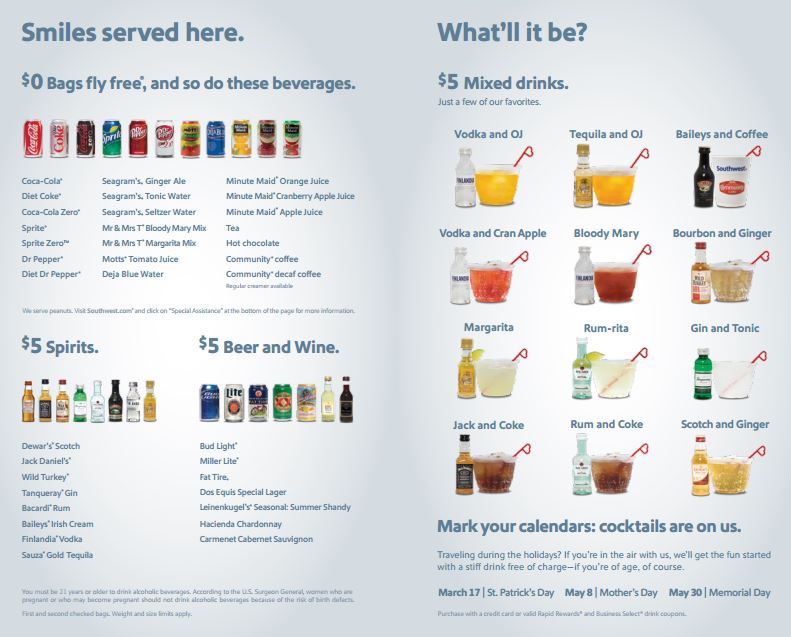 Southwest Airlines offers complimentary pretzels or peanuts on all flights. In case the itinerary includes nonstop flight longer than 2 hours, passengers are served packaged snacks on that flight segment. Southwest does not serve meals or sandwiches, but clients may bring something to eat on board. Better pack a meal or stop by airport's concession stand and bring it onboard.
| Tail | Manufacturer | Model | Year of Built | Age | Delivery |
| --- | --- | --- | --- | --- | --- |
| N8520Q | Boeing | 737-800 | 2017 | 1 year | - |
| N8532S | Boeing | 737-800 | 2017 | 1 year | - |
| N8527Q | Boeing | 737-800 | 2017 | 1 year | - |
| N8529Z | Boeing | 737-800 | 2017 | 1 year | - |
| N8519R | Boeing | 737-800 | 2017 | 1 year | - |
| N8523W | Boeing | 737-800 | 2017 | 1 year | - |
| N8522P | Boeing | 737-800 | 2017 | 1 year | - |
| N8507C | Boeing | 737-800 | 2016 | 2 years | - |
| N8509U | Boeing | 737-800 | 2016 | 2 years | - |
| N8504G | Boeing | 737-800 | 2016 | 2 years | - |
| N8501V | Boeing | 737-800 | 2016 | 2 years | - |
| N8510E | Boeing | 737-800 | 2016 | 2 years | - |
| N8512U | Boeing | 737-800 | 2016 | 2 years | - |
| N8518R | Boeing | 737-800 | 2016 | 2 years | - |
| N8513F | Boeing | 737-800 | 2016 | 2 years | - |
| N8503A | Boeing | 737-800 | 2016 | 2 years | - |
| N8517F | Boeing | 737-800 | 2016 | 2 years | - |
| N8502Z | Boeing | 737-800 | 2016 | 2 years | - |
| N8511K | Boeing | 737-800 | 2016 | 2 years | - |
| N8515X | Boeing | 737-800 | 2016 | 2 years | - |
Showing 1-20 of 806 items.