ICAO / IATA
DLH / LH
Country
Germany
Established
1954
Website
http://www.lufthansa.com/
Fleet size
325 aircrafts
Average age
12.4 years
Deutsche Lufthansa AG, sometimes also referred to as Lufthansa German Airlines, or just Lufthansa, is the largest German airline. When combined with its subsidiaries, Lufthansa is the largest European airline in terms of fleet size, and the 2nd largest in terms of passengers carried. Lufthansa is one of the 5 Star Alliance founding members.
The name of the carrier is derived from Luft (meaning 'air') and Hansa (Hanseatic League). Besides its own services, as well as owning subsidiary airlines Austrian Airlines, Brussels Airlines, Eurowings and Swiss International Air Lines, Deutsche Lufthansa AG owns a number of aviation-related companies like Lufthansa Technik, as part of Lufthansa Group. The group has more than 600 aircraft, making it one of the world's largest airline fleets.
The registered office and corporate headquarters of Lufthansa are in Cologne. Lufthansa Aviation Center, company's main operations base, is at the primary hub at Frankfurt Airport. The secondary hub of the airline is at Munich Airport.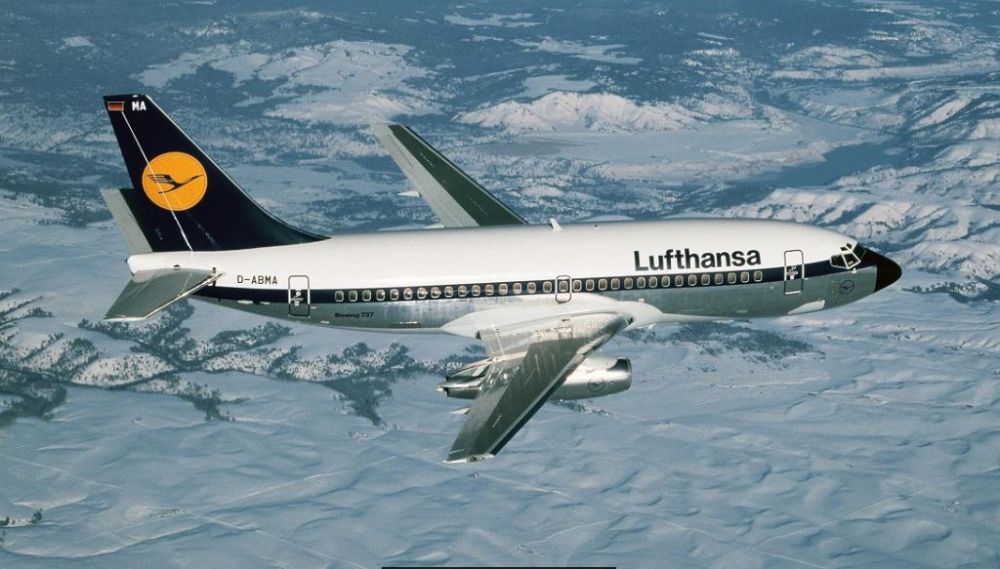 The frequent-flyer programme of Lufthansa is called Miles & More. It is shared among a number of European airlines, including all subsidiary airlines (excluding SunExpress joint ventures), as well as Adria Airways, Croatia Airlines, Condor Flugdienst, Luxair and LOT Polish Airlines. Miles & More members earn miles on Lufthansa and Star Alliance flights, as well as via Lufthansa credit cards, and Lufthansa shops' purchases.
Lufthansa operates 4 types of lounges within company's destination network: Welcome, First Class, Business and Senator lounges. Each departure lounge is accessible via both travel class, or Miles & More / Star Alliance status. Lufthansa Welcome Lounge is limited only to arriving premium guests of United Airlines and Lufthansa Group.
Lufthansa operates a dedicated first class terminal located at Frankfurt Airport, which is the first of its kind. Access is limited to departing Lufthansa First Class, HON Circle members and same day Lufthansa Group first class. Approx 200 staff care for around 300 passengers per day. The terminal features a full bar, full-service restaurant, cigar lounge, offices and relaxation rooms, plus bath facilities.
Currently, Lufthansa (including Lufthansa Regional) operates flights to 18 domestic and 193 international destinations in a total of 81 countries across Europe, Asia, Africa and Americas.
On September 1, 2015 Deutsche Lufthansa AG implemented its controversial EUR 16 surcharge on Global Distribution System bookings, which is payable unless tickets are bought directly from the website of the airline, or at its ticket counters and service centers.
In the past years, relations between the company and their pilots have been tense, with many strikes causing the cancellation of hundreds of flights, as well as major losses. A dispute between Lufthansa and pilot's union has been settled following nearly 5 years and 14 strikes (March 2017).
Lufthansa Classes
First (offered on most Lufthansa long-haul aircraft: Airbus A340-600, A330-300, the front part of upper deck of Airbus A380s, the main deck nose section of Boeing 747–8s). Seats convert to 2-meter (6 ft 7 in) beds, and also include laptop power outlets and entertainment facilities. At most airports, Lufthansa offers First Class check-in counters, as well as dedicated First Class lounges in Munich and Frankfurt, and a dedicated first class terminal located in Frankfurt. Arriving guests have the option of using airline's First Class arrival facilities, and the new Welcome Lounge. Lufthansa introduced a brand new First Class product on Airbus A380 and gradually introduces it on all long-haul aircraft. Via the programme SCORE, LH stops route expansion and extensively decreases its First Class offerings on most routes. Meals are available on demand.
Business (offered on all Lufthansa long-haul aircraft). Seats convert to 2-meter (6 ft 7 in) lie-flat beds and also include entertainment facilities and laptop power outlets. At all airports Lufthansa offers Business Class check-in counters, and at most airports Business Class lounges, or contract lounges, as well as Lufthansa Welcome Lounge upon arrival (Frankfurt). As of 2014, carrier's Business Class on wide body aircraft features flat bed seats.
Premium (introduced in 2014, and rolled out on all long-haul Lufthansa aircraft, starting with Boeing 747-8s). Features 38-inch (97 cm) pitch along with up to 3 in (7.6 cm) more width than Economy, depending on the aircraft. All seats feature a bigger armrest separating seats and a 11-12 inches (28-30 cm) personal seat-back entertainment screen.
Economy (offered on all Lufthansa long-haul aircraft). A 31-inch (79 cm) seat pitch is offered except on Airbus A380s, that have a 33-inch (84 cm) seat pitch. On long-haul routes the company offers seat cushion width of more than 15.75 inches (40 cm), and individually adjustable headrests. All passengers receive meals and free drinks. The whole fleet provides AVOD (Audio-Video-On-Demand) screens in Economy Class.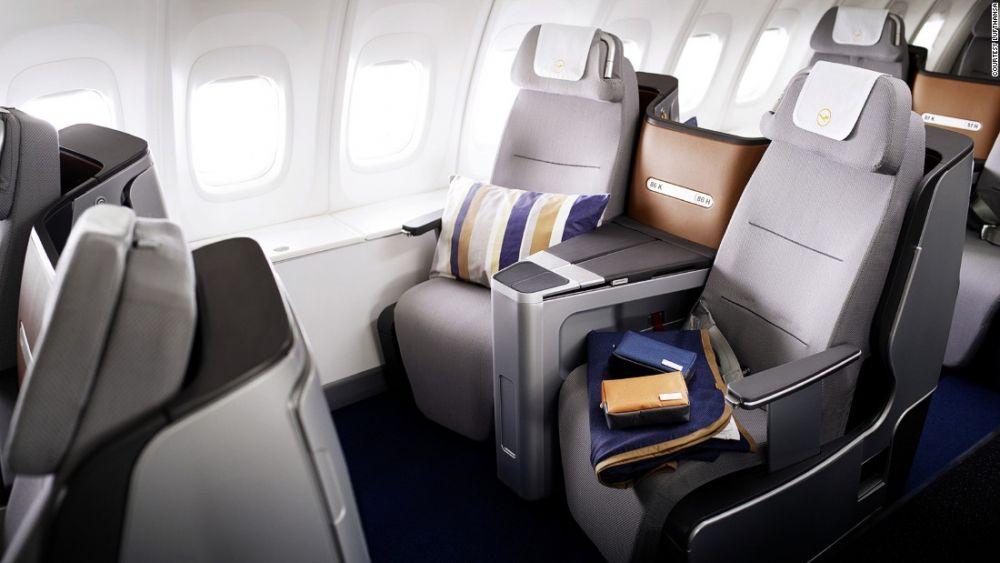 Ba
ggage
Carry-on baggage: First and Business class travellers are allowed 2 carry-ons. Economy and Premium Economy class guests are allowed one carry-on. Assistive devices/outer garments don't count as personal items. All carry-on baggage must fit under the seat in front or in the overhead bin and adhere to the following: max dimensions of carry-on: 55 cm x 40 cm x 23 cm (22 in x 16 in x 9 in (length x width x height) max weight of carry-on: 8 kg (18 lb)
Checked baggage: Regardless of the travel class, the maximum size per piece of baggage is 158 cm (62.2 in) width + height + depth. Items that are bigger/heavier than the permitted dimensions/weight or that are additional to airline's free baggage allowance are carried as excess baggage for flat fee. Items weighing more than 32 kg (70 lb) are transported for a charge by air freight.
Intercontinental flights regulations for free baggage allowance:
Economy: one bag up to 23 kg (50 lb)
Premium Economy: two bags up to 23 kg (50 lb) each
Business: two bags up to 32 kg (70 lb) each
First: three bags up to 32 kg (70 lb) each
European flights free baggage rules:
Economy Light: one piece of carry-on up to 8 kg only
Economy Classic/Flex: one piece of carry-on up to 8 kg; one bag up to 23 kg
Business: two pieces of carry-on up to 8 kg; two bags up to 32 kg
Boarding
Lufthansa airline's Web Check-in allows passengers to check-in starting 23 hours prior to the flight departure. At online check-in guests can choose their seat, print the boarding pass, or have it sent to their mobile phone, at the office or at home. Check-in deadlines of Lufthansa vary by airport.
Those who are only traveling with hand baggage can continue directly to security and on to their gate. Any other luggage may be checked in on the way to the flight at one of the designated baggage drop-off counters of Lufthansa.
Online seat selection, available from 23 hours before the flight departure, is free of charge. For a charge, Lufthansa Economy class passengers are able to reserve seats in advance depending on the chosen booking class.
Lufthansa recommends passengers arrive at the airport two hours before their flight's scheduled departure.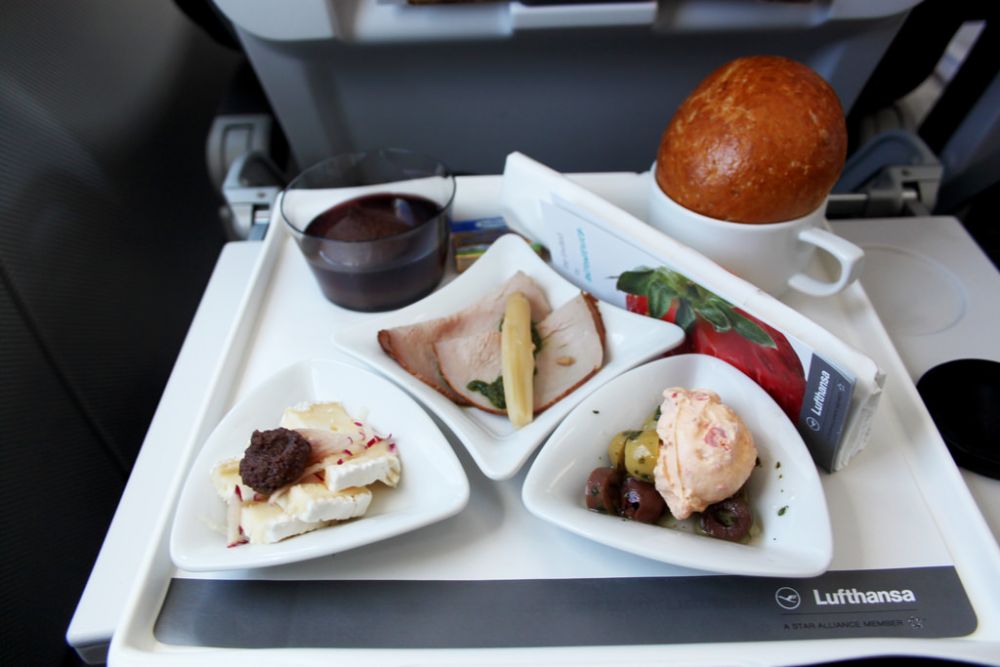 Food & Drinks
Lufthansa meals'price is included in the ticket fare on all Lufthansa operated flights. The company regularly changes its inflight menus for Economy class guests and teams up with different brands to offer various snacks and meal options. Economy class meal offerings on European flights vary depending on the time of flight while all business class clients are served meals on all flights. Lufthansa passengers know what's on the menu prior to their flight if they're flying long haul in Premium Economy, Business or First class. Special meals have to be ordered up to 24 hours prior to departure. These are only available in economy class on Lufthansa flights of more than 185 minutes and in Business class on flights of more than 75 minutes.
First: All First class meals are created in 2 monthly cycles and have been awarded Michelin stars (toques). Lufthansa boasts first class caviar service during day flights and as a separate course during evening flights. Top chefs from famous exclusive restaurants around the world create the dishes for First-class guests.
Business: Full meals are offered on all Business class flights on real china and with proper napkins. For Lufthansa flights of more than 75 minutes, travellers can expect additional sweets, fresh fruit or ice cream. During night flights departing after 8:00 p.m. with a flight time of 6 to 8 hours, the airline introduced shortened inflight service which allows passengers to sleep more.
Economy: Lufthansa offers meal service or a snack depending on the flight time. On most flights less than 2 hours, passengers receive a small snack while longer flights include hot meals.
| Tail | Manufacturer | Model | Year of Built | Age | Delivery |
| --- | --- | --- | --- | --- | --- |
| D-AIUZ | Airbus | A320 | 2017 | 1 year | - |
| D-AING | Airbus | A-320neo | 2017 | 1 year | - |
| D-AIXD | Airbus | A350-900 | 2017 | 1 year | - |
| D-AINF | Airbus | A-320neo | 2017 | 1 year | - |
| D-AIXC | Airbus | A350-900 | 2017 | 1 year | - |
| D-AIWA | Airbus | A320 | 2017 | 1 year | - |
| D-AIWB | Airbus | A320 | 2017 | 1 year | - |
| D-AIXE | Airbus | A350-900 | 2017 | 1 year | - |
| D-AINH | Airbus | A-320neo | 2017 | 1 year | - |
| D-AIXB | Airbus | A350-900 | 2017 | 1 year | - |
| D-AIUY | Airbus | A320 | 2016 | 2 years | - |
| D-AIUV | Airbus | A320 | 2016 | 2 years | - |
| D-AIXA | Airbus | A350-900 | 2016 | 2 years | - |
| D-AIUQ | Airbus | A320 | 2016 | 2 years | - |
| D-AIUW | Airbus | A320 | 2016 | 2 years | - |
| D-AINB | Airbus | A-320neo | 2016 | 2 years | - |
| D-AIUX | Airbus | A320 | 2016 | 2 years | - |
| D-AINC | Airbus | A-320neo | 2016 | 2 years | - |
| D-AIND | Airbus | A-320neo | 2016 | 2 years | - |
| D-AINE | Airbus | A-320neo | 2016 | 2 years | - |
Showing 1-20 of 325 items.